My football Heroes (6), Stanley Menzo

It was Cruijff who told him to go out and make mistakes. He had played a handful of games for Ajax before, sat on the bench for a while, was on loan at Haarlem and back on the bench. Then Cruijff took over at Ajax and decided that Menzo was his man in goal from then on. The big master needed a goalie that could play like a sweeper, apart from stopping the occasional ball with his hands. The rules changed, a pass back at the goalie couldn't be picked up anymore. A goalie needed to be a good football player as well. Ajax plays the game on the opposition's half, there is a big gap between defenders and the keeper.

Menzo made mistakes in his early days in goal, but Cruijff was satisfied with his new goalie. The whole country made fun of him, but he stayed in goal and became better. He was the first black keeper at top level. The Netherlands always have had their share of black players. Small and fast strikers like Roy and Vanenburg, strong and big athletes who could have excelled in any sport like Rijkaard and Gullit. But Menzo was the first goalie who made it. After his initial problems he soon turned out to be a star in goal. Next to that he did play as an extra sweeper and showed his skill. His team mates said that he could have been a pro as a player as well, second division at least.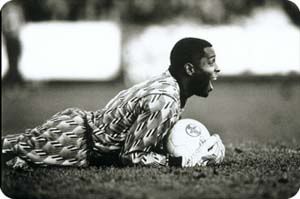 If you're good and a regular at Ajax, you automatically end up in the national team. The thing is, with goalkeepers, a change doesn't happen very soon. So even though then national goalie Van Breukelen had a bad spell, he remained in goal. Menzo was the third goalie on big tournaments but didn't get a break until Van Breukelen retired from international play.

Menzo was not a big success in the national team. At Ajax he sometimes made huge mistakes, but the strikers usually made up for that. In the national team he was the insecure youngster from a few years ago again, even though he had already won a European cup. It was Advocaat who slashed him and brought Ed de Goey. Not as brilliant, but also not as accident prone. Soon afterwards he made some terrible mistakes at Ajax as well; especially Auxerre will be forever on his mind. The new coach Van Gaal decided a young tall goalkeeper was better than him and the career of Van der Sar started.

Menzo was transferred to PSV, rivals in the Netherlands, but on the look for an experienced international man in goal. Again he was confronted with Advocaat. Again the little bold coach put him on the bench. His career seemed filled with bad luck. Wherever he played, supporters considered it funny to throw banana's on the pitch. He lost a friend, the second goalie of Ajax, in the air crash disaster of Paramaribo. He decided to become a pilot. Face the facts. He left PSV for Belgium and became a star there, gaining a transfer to Bordeaux. At the end of his career he went back to Ajax, to become the experienced bencher. An injury stopped him from playing again at his favourite club. We would never again see the goalie with the bright coloured shirts. Wrong, he started at amateur level and gained the national Amateur championship with AGOVV. There he took over as a coach. From a young inexperienced boy under Cruijff, who ran towards any ball between the defence and the midfield circle, to a quiet and experienced pro who leads a team of semi-pro wannabes. Life can be strange sometimes.