My football heroes (3) - Ernst Happel
I never saw him play myself. In my country, his biggest victory was when he coached Feyenoord to win the European cup. They were the first Dutch team to ever win that cup, it was may 1970, and I was a mere five months old. By the time I was eight, he was asked to become the manager of the Dutch national team at the world championships in Argentina. At that age, I had picked Ajax as my favourite team, so a former Feyenoord manager was certainly not my choice. Although they missed both Cruijff and Van Hanegem, somehow the Dutch managed to get into the final, after scraping through the first round on goal difference. Argentina was awaiting them, the home team had had to bribe the Peruvians to reach the final, but were destined to win. Dictator Vidal wanted it that way. Dutch winger Van der Kerkhof was playing with a small plaster on his arm. He had done so for several matches already. Suddenly the referee told them he couldn't play. Everybody panicked, the cold war that world cup finals are had reached an extreme. The only one to stay calm was Happel. He told the referee he needed half an hour, replacing his winger would mean a change of tactics as well. He couldn't have cared less if that meant that the whole world had to wait for the final to start. Obviously then Van der Kerkhof was entitled to play. It didn't help. Again the Dutch struggled at the final hurdle.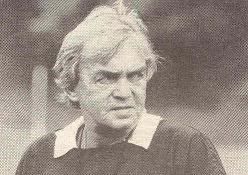 Happel was telling a lie as well. He was known for his silences, his speeches were famously short. A famous quote of him is "Kein geloel, fussballen", which means something like 'forget the crap, just play'. He was a big hit at most clubs he worked on. Won European cups with several teams from different countries. Although he hardly communicated, he had the respect of all stars he ever worked with. I love the story about the training ground where some players challenged him. He had an easy solution to prove his skill. Someone had to put a little soda bottle on top of the goal. Then he'd take a ball, put it at 20 meters away and hit the bottle, first attempt. Without saying one single word he would turn around and walk off the pitch. Point taken.
I started appreciating him in his last years as a coach. It had taken me a while to realise how great he was. I found out that he was one of the best players of the famous Austrian generation of so called wonder boys. In the late eighties he moved back to his country and coached the national team. He had cancer, but refused to retire. He even continued his abundant lifestyle, nobody ever saw him without a cigarette. Wine and whiskey were his best friends. But thanks to the deadly disease for the first time in his life, he looked vulnerable. Today it is exactly 10 years ago that he died. 14th of November 1992 Ernst Happel, one of the greatest coached in the history of football lost his battle with cancer. A Dutch poet wrote a poem about him that described him at his best. I can't say it any better, hence the translation:
From the book by CHRIS WILLEMSEN - DOOD OP DE SCHOEN
nichts los
hij verloor in een casino
twintigduizend dollar
maar zei dat hij ze gewonnen had
hij werd ontslagen in spanje
maar zei dat hij ontslag had genomen
hij was ongeneeslijk ziek
maar zei dat het een virusje was
hij ging dood
we zullen hem binnenkort
dus wel weer ergens tegenkomen
no problem
he lost in a casino
twenty thousand dollar
though said he had won them
he got fired in spain
though said he had resigned
he had an incurable disease
though said it was just a little virus
he died
so soon we will
bump into him somewhere