I'm proud to have witnessed his debut for Ajax. It was a shocker. Up until then Ajax had brought in several Danish youngster, always the same type: Small and quick. My dad took me and some others to Amsterdam at the beginning of the season, the Amsterdam tournament, we are talking 1982 here. 4 teams, so 2 matches for the price of one. First we made fun of FC Köln, who parked their bus near gate SS (will those Germans never learn?) and saw them play a boring match against AZ'67, then a European top team. Luckily during that match the Spurs came sitting exactly next to us on the stands, great opportunity for me to do some signature hunting. My pen broke after two of the reserves; I never got Hoddle and Clemence to sign.
A bit later Ajax had to play Tottenham. In midfield a big man, 18 years old only, but playing like a midfield star with an international career behind him. Molby became another product of the famous Ajax academy. Plenty of skill, brilliant passing and always on the right spot. He was still young and it was difficult to find his position. Should he be the attacking sweeper, typical for the Ajax system, or is he an outright midfield player? Next to that are his problems with the coach Aad de Mos. At one point the coach finds his towel in the bath. He takes revenge and throws all Molby's clothes in the bath as well, thinking it was the big Dane who did it. After that he had to run, starkers, through the corridors to avoid being attacked by the midfield star. At Amsterdam he learned the trade of betting. Sweet revenge was the 1000 guilders he won of aforementioned De Mos, after his suitcase arrived first on the luggage conveyer belt after an European match. De Mos was sure he would win; he hadn't told Molby that he had four suitcases.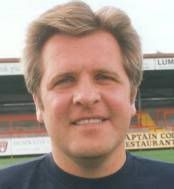 Already capped by Denmark at age 20 he was transferred to Liverpool. Within a few years he became more Liverpudlian than most of his team-mates. He never learned proper English, he only speaks Scouse. Worse was that in the UK he learned that betting is a way of life. He and Ian Rush would go to the races, with the Welsh striker providing the knowledge of horses, while Molby was always willing to gamble. He completely adapts to British football culture, i.e. learns how to drink for hours. This doesn't help him keeping his figure. His breasts were the most lovely to be seen in red, until Pamela Anderson appeared in Baywatch.
On the pitch he made an impression. He was in the Liverpool squad that won the double in the Eighties. He was part of the team during the Heysel disaster, but also played at Hillsborough, after the tragedy there. Personal tragedy came when he tried to drive away when the police tried to stop him. The dozen pints he had had that afternoon didn't do too well in court. He ended in jail.
Through all that misery he was a regular at Anfield for a decade or so. He was the playmaker in a team that was way ahead of their time, certainly in England. I once read a column about him, about him knowing how to 'read' a match. Imagine a goal mound scramble. Instead of joining he walked to a quiet place on the pitch, with several people on the stands wandering where the Dane went to. Suddenly the ball is cleared, exactly to where he was standing. From there he opens the play and starts another attack. No luck, he proved it time and time again. Pure intelligence. Molby was the midfield director. Sure, he was big, therefore not very fast. His weight problems didn't help; the opposition's fans always knew where the pies had gone. But his lack of speed was easily compensated by his skill. He is a fast thinker and handles the ball fast as well. Let the others do the running.
Then in the mid nineties his career is over. He becomes a player-manager at Swansea, later just the manager. In his first full season the team improves significantly, which is not surprising, even as a player Molby was someone who always coached his team. After just missing promotion, the season after that was less successful. No money, players leaving and he got sacked halfway through the season.
Nowadays I think he is coaching somewhere in the conference. The strange no-man's-land in between professional and amateur football. I miss players like him, who combine skill with a great sense of humour. Who live on, but also off the pitch.