My Football Heroes: Felix Magath (8)
Growing up near the German border in the days before cable television meant watching German Bundesliga every Saturday at 6 o'clock. This is how I learned to speak German. Football players from Germany are usually not the ones that do attract large crowds. For every Netzer and Beckenbauer there are dozens of Briegels, Matthaeuses and Kahns. And I was too young to enjoy those two. In his final playing days though, Beckenbauer ended up at Hamburg, where the local HSV was a major European force guided by Ernst Happel.
Playmaker of that team was an old fashioned number 10. Pass the ball to him and you'd know in advance that he'd do something good with it. Nowadays players like this hardly exist anymore, as their walking ratio was usually way below average. Yet they decided how the team played, they directed the game, they were the heart of the team as opposed the lungs like many midfield player in these days.
The number 10 of HSV was at his best in the early eighties. With Kaltz as wing defender who attacked as well, Beckenbauer as central defender, Stein in goal and Horst Hrubesh as a typical German centre forward who couldn't play, but did score. Felix Magath was the brain of that team tough. His passes were magnificent, his ability to read the game unequalled in those days. In 1983 he scored the only goal in the European Cup Final in Athens, thus leading his team to a 1-0 victory over Juventus.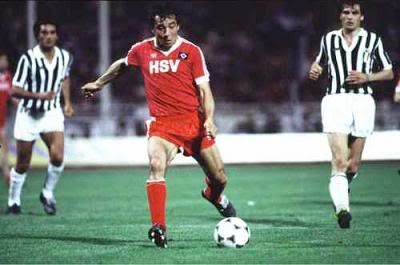 In the German team he was never as big as he was with HSV. Off course he managed to win a lot of caps, yet stars from other clubs didn't accept him, like everyone up north seemed to do. In the World Cup final of 1986 he was on the pitch, when the German coach decided to change things around. When he saw the sign with number 10, he knew it was time to go. Afterwards in an interview he won me over for ever: "I saw the sign with number 10 so I looked at Maradona. When he didn't move, I knew it had to me who had to leave the pitch." Excuse me German friends, but you are not known for your sense of humour. Magath does have one though, which is even more admirable when you think of the moment: just after losing a world cup final.
Magath retired and became a football manager. Again he managed to become very good. He turned things around at every club he managed. This week he signed to become the next manager at Bayern Munchen. Every hero has the right to one mistake…