I couldn´t resist the temptation, so today I went skiing. By the time I sat in the chairlift taking me uphill, I realised that I must have been the worst prepared skier on the mountain. Having skied a lot I didn´t feel the need to splash out on hiring clothing, so with my rented equipment I was wearing normal jeans, a cap instead of a hat and gloves I bought in the supermarket yesterday for the grand prize of 4 euro. Soon I noticed that it was much colder than I had anticipated. Not just did my gloves protect me as much as the ones that surgeons or dentists wear, but especially my face was incredibly cold when the heavy wind uphill tried blowing me out of the chairlift.
But it was great to stand on skies again. For the first time outside Europe, for the first time in August. Cerro Castor is a medium sized ski area, some 30kms outside Ushuaia. The snow wasn´t very good, very icy slopes therefore, but soon I got used to them and was throwing myself down the hills. It was a sunny morning, just some clouds, with only the wind spoiling it a bit. Nearly all runs were open, apart from 2 that were being used for training, from the chairlift I saw the Italian team. At lunch I noticed that also the Swiss and Slovenian team are here.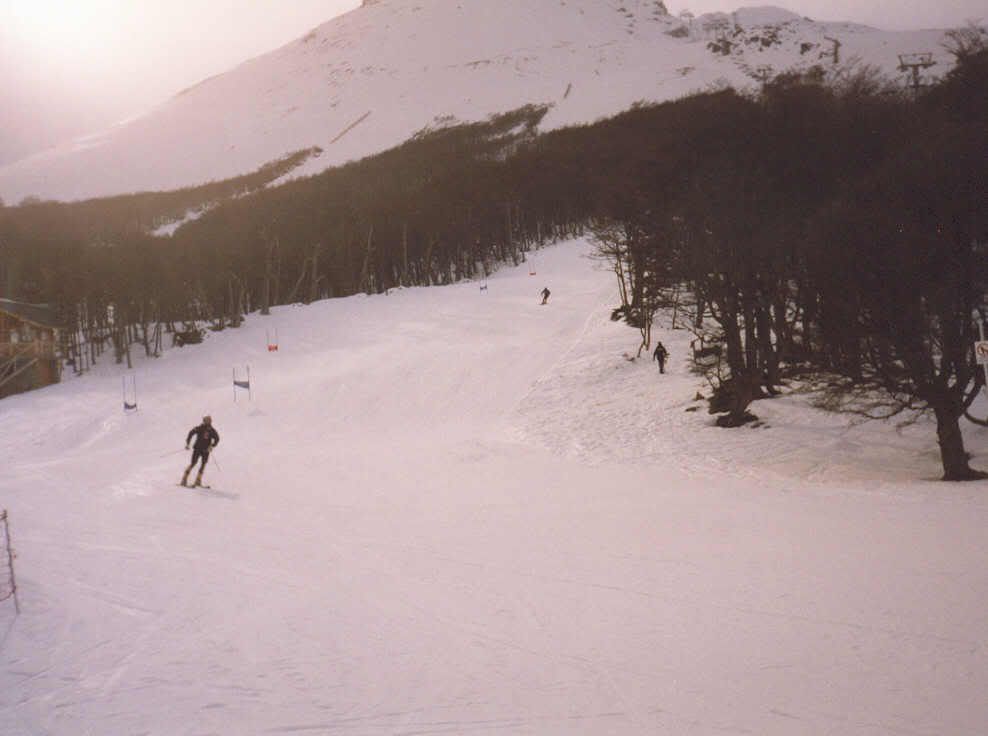 After lunch it started snowing for a bit, not enough to actually enjoy the extra snow on the slopes, yet enough to notice it on your face when you´re speeding down the hill (is there another way?) or sitting in the lift. By two in the afternoon I had suffered enough. I needed to sit on my hands in the lift to get them warm again, the sight was getting worse going down, given that I didn´t even have sunglasses to protect my eyes, so I decided to go for the last run all the way down.
I made a good decision, by the time I handed in my equipment I looked up the hill and couldn´t even see the top anymore. It had started to snow properly. On the way back I saw a completely different landscape then this morning. Completely white road, the whole world was white. Even Ushuaia had changed when I got back, it was weird to see. Only yesterday I used the term "end of winter", today we´re back in the middle of it. But I´m very happy that I did ski, something I hadn´t planned at all when leaving home a fortnight ago.