When crossing the Andes there are a few options. Flying is cheap and expensive, the bus is slow and cheap. The third option in my case was the scenic route. Also expensive, but if you can afford it, it is the nicest way to do so.
Crossing the Andean via a few lakes seemed a great option. Not just travelling to where I want to go, but also a very nice way to do so. 7 steps, alternating buses and boats, what else can a traveller want? Okay, it cost me as much as the first week travelling in Argentina, but money should keep moving, right?
Leaving Bariloche took us longer than anticipated. Instead of just determinating a few pick up points, the bus went to every single hotel possible, going back and forth through the one way system in town. Some points we passed at least three times...
But after an hour real driving past the lovely Lago Nahuel Huapi, we arrived at the harbour Puerto Pañuelo where the first boat awaited us. Just over an hour over aforementioned lake were a nice start of the morning. Great views, lovely sun to accompany us. The boat was fairly full, with a lot of people on a daytrip as well. I was surprised to see how many adults can entertain themselves by feeding biscuits to seagulls for ages, instead of enjoying the scenery.
In Puerto Blest there was time for lunch. The town was basically a hotel and a snack restaurant. So expensive food or bad food, luckily I came prepared and ate the food I bought at the bakery the night before. Gave me some spare time to visit the exhibition on the national park as well.
Part three was a very small busride from one lake to another, only about 3km, but a very nice sand track through a great forest, I even enjoyed that.
The second lake of the day was Lago Frio, another half an hour on a boat, again very enjoyable. After that lake we had to leave Argentina, surprisingly enough, in the middle of nowhere, some customs were actually there to put an extra stamp into my passport.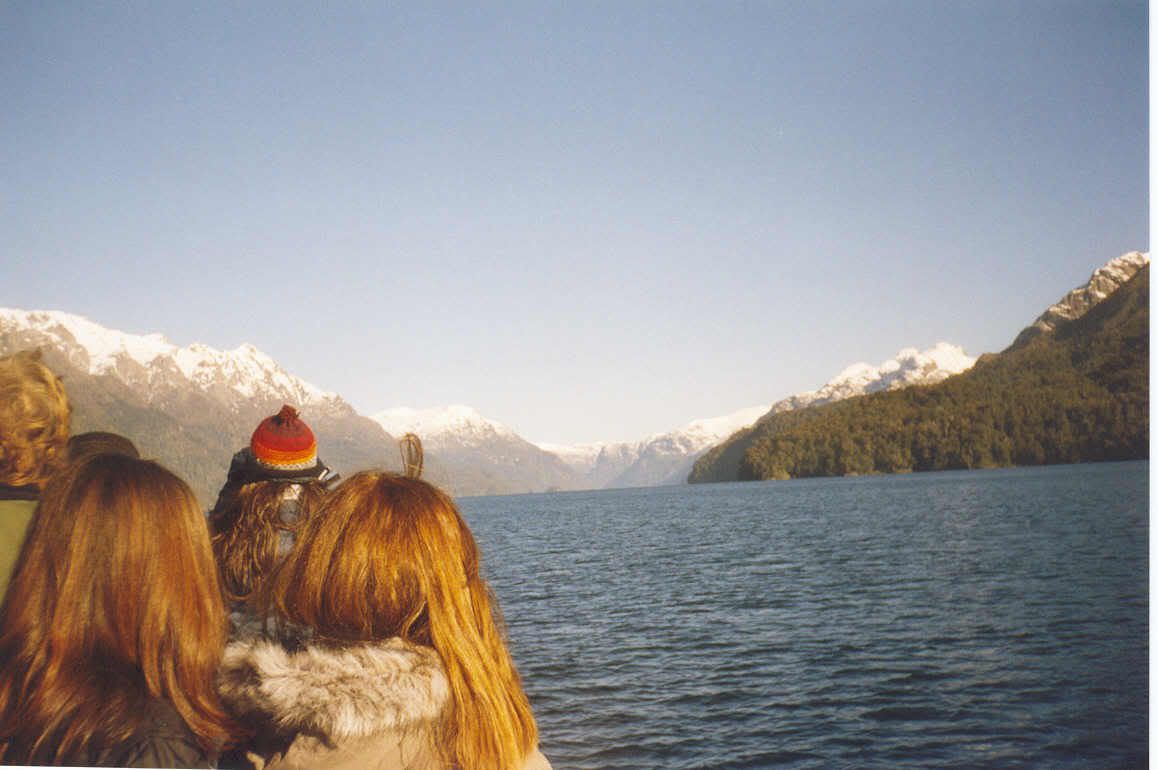 Another busride awaited, cross the border, over a mountain, over a track that was hardly suitable for a mountainbike, but somehow the busdriver managed to get us into Chili anyway. Beautiful nature, great views, waterfalls, everything included.
Step six was the third and last boattrip, also the longest. Nearly two hours from Peulla to Petrohue over Lago Todos los Santos. Another beautiful lake, surrounded by mountains and volcanoes. Sun shining again, wondering over houses on the side of the lake, obviously only connected to the rest of the world via the water. Twice somebody joined us, taken by a little boat to the big catamaran we were using.
The last bus journey was quiet, just interrupted with a stop for a waterfall, later cruising past Chili´s biggest lake, Lago Llanquihue. Final point came for me in Puerto Varas, where I took a bus to Valdivia.
It would have been an unforgettable journey, if it wasn´t for the interruption in the middle. Somehow the company decided that this journey in wintertime is too long for travellers and so we had to stay overnight in Peulla, where only one hotel is based. And that hotel seems to live in another world. Dollars are the currency and the cost of a night there is about 7 times the cost of a similar room in Bariloche or Calafate, more than 10 times what it would cost in Buenos Aires. And I can live with paying a lot of money for something that is nice and the journey certainly was worth it, but I can´t stand it if people try to milk me, which is what happened. I was told that I had to cough up over 30 dollars extra, as there weren´t any standard rooms available, so I got a superior room. 12 hours before leaving, you do not really have a choice, so I paid. Obviously when I was in the hotel, I found out that there were standard rooms empty. A dark cloud over a day and a half with great weather and a lovely journey.
For those interested, you can have a look at the website of the company (I haven´t seen it myself yet) via http://www.lakecrossing.cl