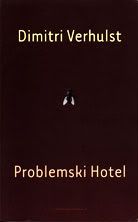 Ik had wel eens een verhaal gelezen van Verhulst, maar nog nooit een heel boek. Inspiratie voor dit boek kreeg de Vlaming toen hij zich enkele dagen liet opsluiten in een asielzoekerscentrum. Hij schreef er een reportage over. Maar de indruk bleek te groot om na het artikel verder te gaan. Vervolgens dit boek.
Via de ogen van een asielzoeker uit een fictief land zien we het leven in een asielzoekerscentrum. Alle bewoners zijn alleen maar bezig om te zien hoe ze een papiertje kunnen bemachtigen, of dat nu via de reguliere procedure of via een andere methode is. Zo niet, dan probeer je naar Engeland te vluchten.
Verhulst heeft een behoorlijk cynische hoofdfiguur neergezet. Het is een fictieve hoofdpersoon, de fotograaf die in eigen land niet meer kan fotograferen. Het is wel aannemelijk dat een fotograaf een goed beeld vormt van zijn omgeving, je inleven in de beroerde omstandigheden is niet al te moeilijk. Of het daadwerkelijk een paspoortindustrie is, weet ik niet. Maar het lijkt me dat Verhulst niet veel heeft verzonnen voor zijn boek, alleen de juiste gegevens gebruikt heeft. Van asielzoekers die ik ken, gesproken heb, is mijn beeld van een AZC in Nederland niet veel beter dan het Vlaamse AZC dat in dit boek centraal staat.
Het cynisme zit volgens mij niet in de asielzoeker, maar in een samenleving die nog steeds asielzoekers als criminelen behandelt, omdat 'men' denkt dat iemand vrijwillig zijn vrienden, familie en bezittingen achterlaat om elders een nieuw bestaan op te bouwen, wetende dat ze daar eigenlijk niet welkom zijn. Vluchtelingen zijn geen profiteurs, het zijn mensen. En in elke groep mensen zitten criminelen, watjes, profiteurs, weldoeners, klootzakken en schatjes.
Nummer: 06-031
Titel: Problemski hotel
Auteur: Dimitri Verhulst
Taal: Nederlands (Vlaams)
Jaar: 2003
# Pagina's: 110 (5193)
Categorie: Fictie
ISBN: 90-254-1978-X