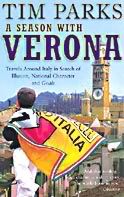 In 1996 I worked in Italy on a campsite entertaining children. The Lago di Garda was my home for the summer, I picked up Italian through reading the famous Italian newspaper La Gazetta della Sport. My first conversations were about football (Calcio) with some of the campsite staff. A few of them were part of the regular crowd at Verona, about 15km away, where local club Hellas still remembered their one stunt: winning the championship (Scudetto) in the eighties. I was supposed to go with some of them to the first match that season: away to AC Milan. Somehow this didn't work out, so I went with a Scottish colleague instead and saw George Weah score one of the best goals ever made.
Tim Parks lives and works near Verona. He also becomes a Hellas fan. At some point he needs an excuse to visit away matches as well, decides to write a book about a season from his favourite team and manages to convince his wife that he has to see them in all 34 matches that season.
The first match he immediately finds out what a hard core fan has to go through. A complete night in an old bus to see an away match at Bari, completely down south. Not only uncomfortable, but also a chance to see the fans that do go every single match, getting to know them. A draw is a good result.
Verona is not an easy team to follow. Their only hope for the season is to stay out of the relegation zone, while their fans are known throughout Italy as racist or even fascist. The north south divide is bigger in Italy as anywhere. Hellas is a club full of problems. Parks gets close to the team and meets directors and players, but also a lot of lifetime fans. He checks the internet forum where the most fanatical discuss the games and watches all home games with his son on their regular spot.
Unlike previous books about following a team (Bill Bufford, Doug Brimson, John King), Parks looks at more than just the team or the matches. Parks cannot stop himself looking at the Italian culture and trying to link the beautiful game with politics, history and modern culture. He does a good job at it. Though there is plenty of humour as well, at several points the book is laugh out loud funny. The book is a great mix of information and entertainment. He is accepted by the fanatical fans, but also becomes friendly with some of the players. Parks seems an outsider, as an Englishman in Italy always will be, but speaks the language so incredibly well, that no detail goes passed him. He even understands the local dialect, which is difficult for most Italians. Because of his genuine interest (he didn't pick the club at random, nor does he want to write a book just like that), he manages to write a great tribute to the season of Hellas Verona. Gialloblu per sempre!
Number: 06-054
Title: A season with Verona
Author: Tim Parks
Language: English (UK)
Year: 2002
# Pages: 447 (10145)
Category: Sports (Football)
ISBN: 0-099-42267-0