Mart Smeets – De tour wacht op niemand (07-048)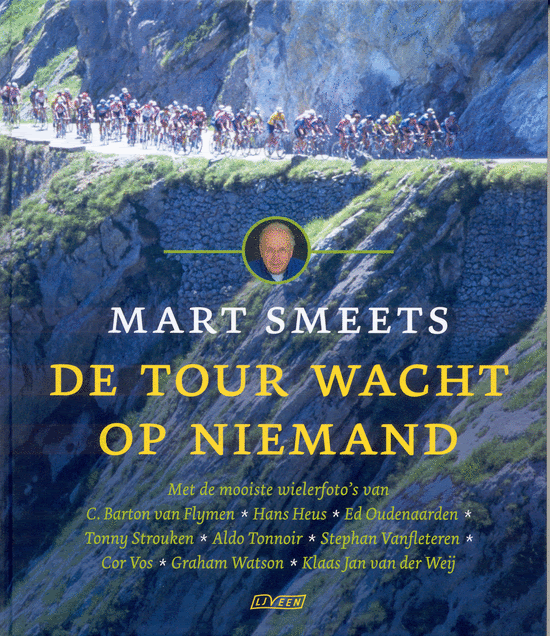 Smeets had in De Muur al meerdere keren verhalen geschreven over wielerfotografen. En omdat zijn uitgever nu eenmaal twee keer per jaar een boek wil uitgeven (de Tour de France en in december, de cadeaumaand), bundelde hij een aantal van die verhalen, schreef er wat extra verhalen tussendoor, wat oude columns en hoppa, een nieuw boek. Lijkt eenvoudig. Maar alleen de foto's van de beste wielerfotografen al maken dit boek de moeite waard. Smeets is er in geslaagd om echt de toppers te vinden (zijn netwerk is natuurlijk gigantisch groot), daarnaast heeft hij van die toppers de mooiste foto's.

Het verhaal van die mannen met camera's is minstens zo interessant. Waarom gaat iemand met 90 van een berg af achterop een motor, langs diepe afgronden? Waarom ligt iemand in een greppel voor een mooi beeld, waarvan maar afgewacht moet worden of het een mooie foto wordt? Waarom komt iemand jaar in jaar uit naar de hectiek van de Tour de France? Mooie levensverhalen dus van C. Barton van Flymen, Hans Heus, Ed Oudenaarden, Tonny Stroucken, Aldo Tonnoir, Stephan Vanfleteren, Klaas Jan Van der Weij, de bekendste Nederlandse fotograaf Cor Vos en de internationaal populaire Graham Watson.

Het titelverhaal is het verhaal over hoe Smeets ooit in de Tour belandde. De titel was dit jaar weer actueler dan ooit. Schitterend boek om tijdens een lange wandeletappe te lezen. Maar ook een boek dat je, in tegenstelling tot sommige van zijn bundelingen, vaker uit de kast trekt om nog eens een keer te kijken naar de bebloede kop van Jalabert, naar de totaal ontredderde Fignon of naar dat prachtige beeld van Hans Heus uit de Tour van 1977. Die zwart wit foto van een groepje dat halverwege een klim om een bocht komt, vijf man sterk, tussen de gigantische Pyreneeën cols om ze heen.
Nummer: 07-048
Titel: De Tour wacht op niemand
Auteur: Mart Smeets
Taal: Nederlands
Jaar: 2007
# Pagina's: 168 (8394)
Categorie: Sport (Wielrennen)
ISBN: 978-90-204-0723-5