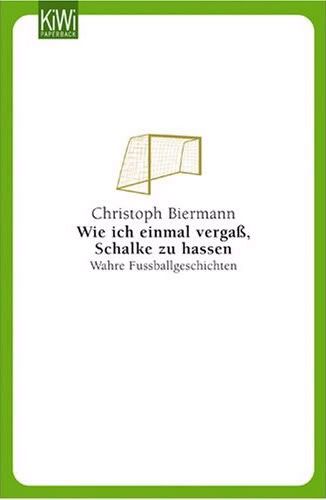 Christoph Biermann – Wie ich einmal vergass, Schalke zu hassen (08-009)
To keep up my German, this book was a nice book to read. I like reading about football (soccer for Americans), but it does have to be timeless. In the daily paper it gets boring too soon. Who cares about some transfer rumours or gossip about the private lives of overpaid superstars?
I want to read about fans who really care about the game, about forgotten stars of the fifties, about football players who dare to be different. That's why I picked up this book in this bookshop in Munster last year.
Biermann is a German football journalist, but also a columnist. In this collection stories that are more or less timeless, interesting to read. A column about trees in football parks (where have they gone?), about freedom of press in Gelsenkirchen (the team he doesn't really like) or about interviewing Günter Netzer. Even Dutch journalist Hugo Borst gets a whole column dedicated, in which the difference between the journalist and the fan should become clear.
Biermann has a great heart for the beautiful game. His columns deserve a bigger audience than the German speaking world.
Quote: "Horror im gleichen Jahr auch in Aserbaidschan, wo gleich vier Clubs aus der Hauptstadt Baku abstiegen und nur einer auf. Zum Trost: Es waren dann immer noch fünf Clubs aus Baku in der ersten Liga." (Page 149)
Translation: "Shock in the same year in Azerbaijan, where four teams from the capital Baku were relegated, with only one team ascending. Comfort: There are still five teams from Baku in the top league."
Number: 08-009
Title: Wie ich einmal vergaß, Schalke zu hassen
Author: Christoph Biermann
Language: German
Year: 2007
# Pages: 224 (1967)
Category: Sport (Football)
ISBN: 978-3-462-03792-0