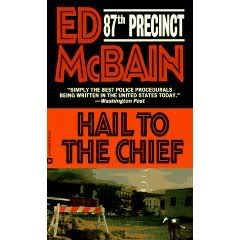 Ed McBain – Want ik ben uw leider (08-027)
Couple of hours in a train, ideal for Ed McBain. Carella has to follow a trail, leading to a group of youngsters, a gang, on the verge of a gang war.
Not standard Carella material, imho, yet, it does make for a good book as well.
Quote: "I told him that there are worse influences in this country than television. I told him that if someone felt the need to copy violent heroes, he will find many of them in his direct surroundings, without ever having to switch on the television." (page 152)
Number: 08-027
Title: Want ik ben uw leider (Orig.: Hail To The Chief)
Author: Ed McBain
Language: Dutch (Orig.: English)
Year: 1973
# Pages: 152 (4932)
Category: Whodunit
ISBN: 90-449-1732-3