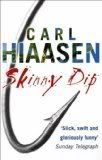 Carl Hiaasen – Skinny dip (08-036)
From the back cover: "Joey Perrone is a woman with a mission. She's just been pushed overboard from a cruise liner by Chaz, her scumbag husband, and survived to tell the tale. But rather than reporting him to the police, she decides to stay dead and – with a little help from her friends and a few of Chaz's enemies – instead of getting mad, she's going to get even."
Hiaasen is a good author. He always comes up with a great new plot to write more or less the same novel. 'Striptease' even became a huge movie with Demi Moore. He certainly knows how to write a bestseller. As long as you don't read two of his books soon after another, there is no problem.
With this book I was lured in again soon enough, meeting the big money criminals, polluting the everglades, the weirdo's who somehow manage to survive in modern day society (Tool, collecting highway-fatality markers), the simple minded Florida man, who thinks sex is more important than anything, the hero with a past and even a cameo for a man Hiaasen fans remember from previous novels with one eye and a shower cap.
Hiaasen is fun to read. So is this book. And dedicating this book to the late Warren Zevon certainly is a nice gesture. Though having quoted several lyrics in previous novels, it seems an obvious choice.
Quote: "He could only guess what had shot through his wife's mind when she felt him grab her ankles. He's gotta be kidding, is what she'd probably thought. The act itself was a rudimentary exercise in leverage, really, flipping her backward over the rail. It had happened so fast, she hadn't made a peep." (Page 20)
Number: 08-036
Title: Skinny dip
Author: Carl Hiaasen
Language: English (U.S.)
Year: 2004
# Pages: 476 (6746)
Category: Fiction
ISBN: 0-552-77253-4