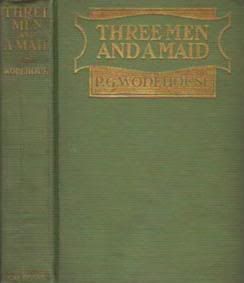 P.G. Wodehouse – Three men and a maid (08-040)
For the first time in my life I have read a full book not on paper. The website
Dailylit.com
will send you a daily E-mail with a part of a book. The first book I chose to read this way was this book by Wodehouse. 71 mails it took me to read the whole book. From March 13, until June 19, before it was over.
I had deliberately chosen Wodehouse for this experiment. I am a man of paper. I love a book in my hand. I adore strolling through bookshops; you can do me no bigger favour than giving me plenty of time and money in a second hand bookshop. Obviously I read from a screen on a daily basis. But that's newspapers, weblogs, information, pictures, movie chunks. Not real stories, not literature.
Wodehouse has been praised by many authors I have read. He is a comic genius apparently. So I decided to read a book by Wodehouse. And it was worth it. I am still not sure if reading via E-mail will be a thing that gets a regular place in my life, but reading Wodehouse certainly will.
The story about three different man courting the same young lady is hilarious and you can see where many English author got his inspiration. Many television comedies wouldn't have existed had not Wodehouse been such a popular writer ages ago.
Quote: "As Sam looked at her the thought crossed his mind that here was a wonderful chance of making the most tremendous impression on this girl. What would she not think of a man who, reckless of his own safety, dived in and went boldly to the rescue?" (Mail 9/71)
Number: 08-040
Title: Three men and a maid
Author: P.G. Wodehouse
Language: English
Year: 1922
# Pages: 172 (7565)
Category: Fiction
ISBN: 978-1-6042-4216-4