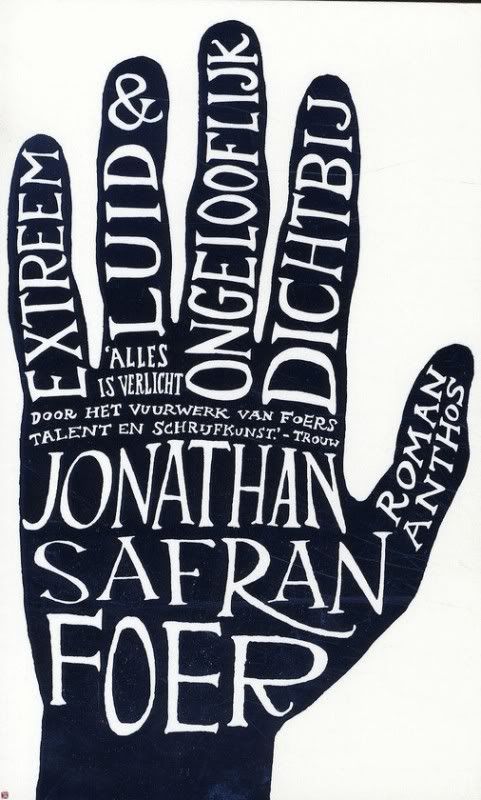 Jonathan Safran Foer – Extreem luid & Ongelooflijk dichtbij (08-041)
Another great gift I got from my little sister. She is the best book present buyer I know. I'm not sure if I had picked this book, especially when I had picked it up in a book shop and seen what Foer had done with some of the pages. Deep down I am probably more conservative than I care to admit. A book should have a lot of pages, on those pages should be words.
But luckily I did start the book, soon got dragged into it. With some pages only one sentence long, not difficult. It soon appeared that I had read a whole chunk of the book that way.
Little Oskar has lost his father in New York. 9/11 was the date. In a way to get to know his father better, he tries to find someone called Black. The key going with that quest should also be the key to his father's secret.
With his strange family adding strange subplots, his mind wandering through recent past and present, the story easily becomes a page turner of high calibre.
Yet, writing down those last two paragraphs I feel I can't do the book any justice. The story is much better than the short summary I am trying to give. It is recent history seen differently. It is a book for adults, told by a child. It is a book with the guts to be different. It is… useless describing it to anyone who hasn't read it. I guess that's the only way to find out. Read for yourself.
Quote: "Are you there? Are you there? Are you there? Are you there? Are you there? Are you there? Are you there? Are you there? Are you there? Are you there? Are you
And then the message stopped.
I timed the message and it lasted one minute and twenty seven seconds. So it lasted until 10.28. Exact the moment the building fell." (Page 321)
Number: 08-041
Title: Extreem luid & ongelooflijk dichtbij (Orig.: Extremely loud & incredibly close)
Author: Jonathan Safran Foer
Language: Dutch (Orig.: English)
Year: 2005
# Pages: 376 (7941)
Category: Fiction
ISBN: 978-9041-41280-5