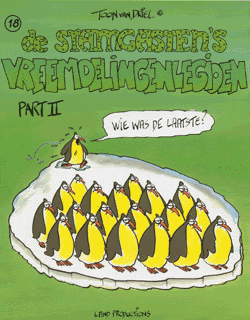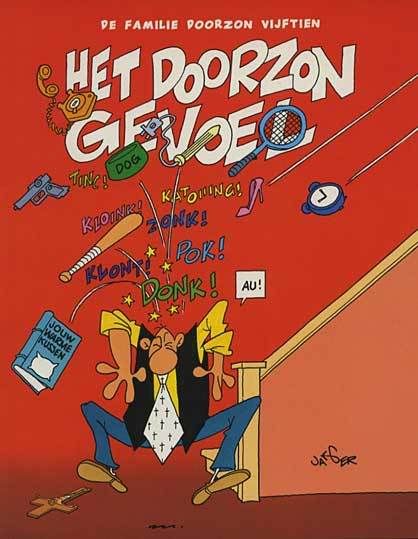 Toon van Driel – De stamgasten 18 – Vreemdelingenlegioen part II (08-045)
Gerrit de Jager – Doorzon 15 – Het doorzongevoel(08-046)
Toon van Driel – Stamgasten 1 (08-047)
Een avondje onverwacht oppassen op neefje en nichtje. Geen boek meegenomen, krant uit. Je zoekt eens wat in de kast en dus kom je uit bij de stripboeken. Je pakt er een. Als je die uit hebt nog een. En tenslotte nog een derde. En zo schiet zo'n avond al lekker op.
Leuk ook om het verschil te zien tussen de eerste stamgasten in zwartwit en een latere in kleur. Vooral erg flauw, met hele flauwe woordgrapjes, waar Van Driel patent op heeft (neefje van zeven vindt ze nu al geweldig), maar soms ook weer zo ontzettend flauw dat het weer wel leuk is.
En het bevestigde ook nog eens dat de familie Doorzon van Gerrit de Jager een leuke serie was, maar dat na een boek of acht de serie genoeg uitgemolken was. Dus de paar die ik zelf twintig jaar geleden kocht en las waren leuk, daarna heb ik niet veel gemist. Leuk, maar niet meer nieuw, origineel of verrassend.
Beide schrijvers hebben in ieder geval duidelijk hun plek in de top van de Nederlandse stripwereld verworven en ook behouden.
Nummer: 08-045
Titel: De Stamgasten 18
Auteur: Toon van Driel
Taal: Nederlands
Jaar: ?
# Pagina's: 64 (8666)
Categorie: Strips
ISBN: 871-3-02900-001-3Nummer: 08-046
Titel: Doorzon 15
Auteur: Gerrit de Jager
Taal: Nederlands
Jaar: 1991
# Pagina's: 64 (8730)
Categorie: Strips
ISBN: Nummer: 08-047
Titel: De Stamgasten 1
Auteur: Toon van Driel
Taal: Nederlands
Jaar: ?
# Pagina's: 64 (8794)
Categorie: Strips
ISBN: 871-3-02900-016-7