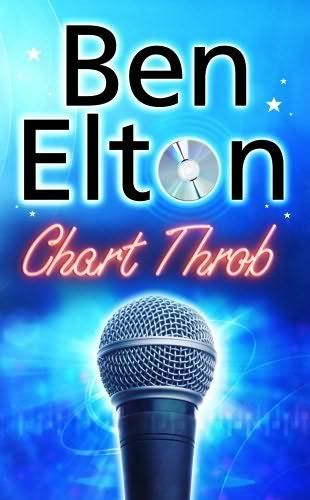 Ben Elton – Chart throb (08-048)
Elton's book take up more and more of my shelf space. His novel This other Eden and his play Gasping were way ahead of their time, their attention for the way we pollute the world was twenty years before the rest of the world considered it interesting enough.
His latest books seem more like parodies. Dead Famous about a murder in the Big Brother house was a great Whodunit. High Society shows that the war on drugs cannot be won. Chart Throb deals with the recent rage in reality talent shows. In this case about 95.000 wannabe's hoping to become the next pop star in Britain.
Either Elton, through his connections has a lot of inside information or he has let his mind wander and written a very cynical view of the main characters behind these shows. Either way, the book is gagging for more attention. It was very difficult to put down. Who would have thought that the Prince of Wales himself would enter this competition?
By the time I was half way the book though, we were still at the preliminary stages of the show. Up until then it was all preparation for the shows, with the main characters far away from the action. Probably like the real thing, but it made me think. Was it not possible to write the same book, but just a bit thinner? Say 50 to 100 pages less. It would have given the book a bit more speed and less the idea of a real life soap (which is was describing off course) where we have to see a lot, before something is really happening.
The twists in the end are not as surprising as the back cover is trying to make them. Basically the plot isn't the strongest point in this book, but I guess that Elton had to come up with some plot, after he had already written most of the novel. Sometimes the plot decides the whole story (Stark), this time the story just needs a plot to end the novel. Never mind.
But I stick to my original thought that Elton always manages to write great books about whatever is in the news at the time. This certainly is one of them.
Quote: "Fifteen minutes later the story was confirmed. His Royal Highness had indeed decided to volunteer for the experience of Chart Throb and hoped to be selected for audition. It was stressed that he wished to be treated in exactly the same manner as all the other applicants and that if he wasn't he would withdraw." (Page 70)
Number: 08-048
Title: Chart Throb
Author: Ben Elton
Language: English (UK)
Year: 2006
# Pages: 464
Category: Fiction
ISBN: 978-0-552-77376-8