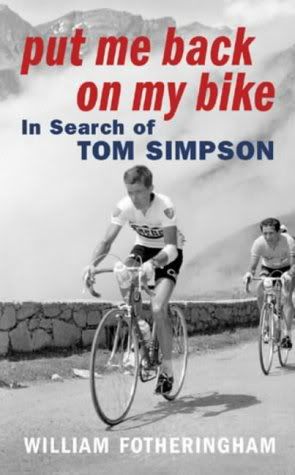 William Fotheringham – Put me back on my bike (08-050)
During the Tour de France it is time to dive into my cycling library. Too many books, not enough time, the problem is familiar. One of the books that has been heading my TBR list, was this book by Fotheringham.
The Tour de France is a race full of small histories, big legends and memorable events. When the three come together, eternal fame is guaranteed. Not that one would want to achieve fame like Tom Simpson did, but it does make for a good story.
Fotheringham is writing the biography knowing that not everyone will appreciate his book. Simpson's wife likes to keep the memory of her late husband untainted. But in an era when dope was exuberant, Simpson was one of the experts. Obviously those close to him will never admit that it was the combination of dope and exhaustion that killed Simpson, but it is still more logical than just plain bad luck.
We get to know Simpson well reading this book. Foteringham is a respected journalist and has written a great book. Born from the old continent, I remember frustration during holidays in Britain, decades ago, when it was impossible even to find out the winner of a stage, let alone view highlights, hence my initial scepticism about a British cycling book. But when it is about Simpson, the book has to be written by a British author.
At least the death of Simpson was the start of better medical attention and drug testing. I'm still not sure about the war on drugs in cycling, even if it is necessary, the way the French and Germans have risen to the challenge certainly isn't the way I envision it.
For me reading this book was a great experience. It gave me plenty of new information, for instance on the stage won by Hoban the day after (should he have won it?), the difficult road to fame for a talent from outside the traditional cycling nations and the impact Simpson had on the conservative cycling world. Compliments to Fotheringham. This book should be on the shelf of every cycling fan.
Quote:"Amphetamines have a double whammy effect on body heat: their use leads to a temporary increase in the body's core temperature and at the same time it also impairs the body's capacity to regulate internal heat." (Page 181)
Number: 08-050
Title: Put me back on my bike. In search of Tom Simpson.
Author: William Fotheringham
Language: English (UK)
Year: 2002
# Pages: 242 (9588)
Category: Sports (cycling)
ISBN: 0-224-016186-0