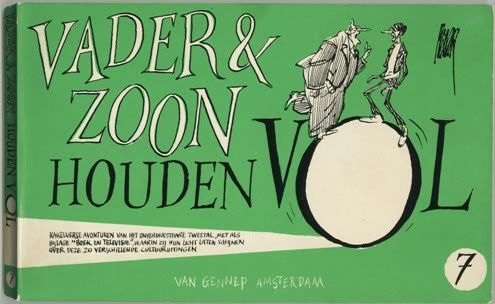 Peter van Straaten – Vader & Zoon houden vol, deel 7 (08-051)
Boekenmarkt in Deventer. Eerste weekend van augustus. De grootste boekenmarkt van Nederland en ik was er nog nooit geweest. Ook wel verklaarbaar, want naast boeken is reizen een van mijn passies. En augustus is nu eenmaal de maand waarin ik een grote lange reis kan maken. En dan ook nog eens veel tijd om te lezen. De boekenmarkt schiet er dus bij in.
Dit jaar waren de omstandigheden anders, dus kon ik mijn hart ophalen, kilometers lang boekenkramen door de hele stad, een paradijs voor de boekenfan die ik ben. Het duurde een tijdje voor ik de juiste sfeer had. Ik word niet zo vrolijk van dure kunstboeken en goedkope Grisham pockets, maar uiteindelijk kon ik al snel de kramen vinden waar ik wel tijd aan moest besteden en welke ik meteen kon negeren.
Op zo'n markt is het voor mij net als in een tweedehandsboekenzaak of bij de Slegte. Eenmaal een boek gekozen, dan ga ik niet met slechts twee boeken naar huis. Dus de keus van het eerste boek is belangrijk. Uiteindelijk viel het mee en keerde ik met 6 boeken thuiswaarts, waaronder deze van Peter van Straaten. In de loop der jaren heb ik veel boeken van Van Straaten gelezen, vooral deze serie over Vader en Zoon uit de jaren zeventig blijft erg leuk. Benieuwd of de schrijver zich binnenkort ook nog moet verantwoorden bij de openbare hetze die momenteel heerst in ons land en moet uitleggen waarom zijn subversieve stripverhalen in de jaren zeventig tot geweld in de jaren tachtig hebben geleid.
Ik lees ze in ieder geval altijd weer met plezier. In de trein naar huis had ik het boek al uit. Op weg naar de volgende dus maar…
Quote:"Blij dat ik geen huisje buiten heb! Al die stakkers met hun tweede huis! Ieder weekend moeten ze erheen, want het is tenslotte betaald. Komen ze in een ijskoud, vochtig, schimmelend boerderijtje en kijken het hele weekend naar natte weilanden!! Als het niet mist!" (blz. ergens in het midden)
Nummer: 08-051
Titel: Vader & Zoon houden vol, deel 7
Auteur: Peter van Straaten
Taal: Nederlands
Jaar: 1977
# Pagina's: 112 (9700)
Categorie: Humor
ISBN: 90-6012354-9