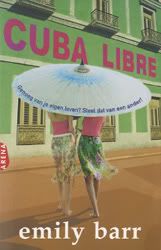 Emily Barr – Cuba libre (08-052)
I have read Barr before. Bagage (
my review
) four years ago, I just found my own review. Travel literature meets chick lit. It seems to work for her, this is her genre.
I'm not sure if I have read her first book as well, but this third one was a bit disappointing. The cover promises a lot: ("Bored with your life? Steal someone else's"), but the story isn't that great.
I like the idea of Maggie in her own tiny apartment in Brighton. She buys a baby phone for her sister and when trying it, ends up listening to her neighbours. She becomes addicted. After that the story gets out of hand and strange twists make it completely unbelievable. And unbelievable isn't a compliment in this context, it is just a matter of fact.
That's the moment you're lost as a fiction writer. If the story loses it's credibility, you're gone.
In the end it needs a movie plot to save the story, but it only makes things worse. Learning Spanish and then using Italian quotes doesn't help either. A wrong summary on the back, a quote that does not reflect the story, it does get worse.
In a clearance sale I recently bough the next book by Emily Barr. I hope it resembles Baggage, even though I wasn't over excited with that one either. But this book certainly will not rank high in my end of year list. Let's end positive: I did finish the book in one rainy night in.
Quote: "Off course reality turned out different. Around midnight they stood face to face with their landlord, Luis, who greeted them cheerfully. And even though Charlie hardly slept during the last 24 hours, he cried like a madman when they put him in his cot." (Page 99)
Number: 08-052
Title: Cuba libre (Orig.: Cuban Heels)
Author: Emily Barr
Language: Dutch (Orig.: English)
Year: 2003
# Pages: 349 (10049)
Category: Chiclit
ISBN: 90-6974-525-9