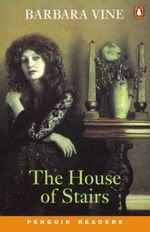 Barbara Vine – The house of stairs (08-053)
Vine is the alter ego of Ruth Rendell. She likes to write the more psychological thrillers under the name Barabara Vine apparently. So as Rendell, most books look like simple Whodunits, as Vine the non-existant category should be called Whydunit.
Earlier this year I read A dark adapted eye (
my review
), years ago a translation that has been published in the Netherland under her own name, though it was originally a Vine book as well.
By the third book, her Vine books look like a trick that is repeated once too often. The story is great, the characters really do come to life, but in the end one just wants to find out what really happened and the fact that it only comes in bits and pieces gets more annoying than it should. Curiosity is replaced by irritation, never a good sign.
So, perhaps not more than once a year by Vine and I should be okay. I have read all the books I own anyway, so I won't go looking soon.
Quote: "Douglas was fifty-three and therefore had almost certainly passed the time when his inheritance could have appeared in him. His death had nothing to do with this particular hereditary disease, for it was quick and merciful, not the long drawn-out torture that awaited my mother." (Page 29)
Number: 08-053
Title: The house of stairs
Author: Barbara Vine
Language: English (UK)
Year: 1988
# Pages: 282 (10331)
Category: Thriller
ISBN: n/a