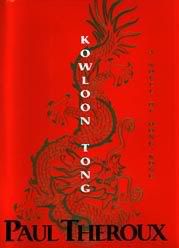 Paul Theroux – De laatste dagen van Hongkong (08-059)

Better known as a travel author, or even, amongst the younger of us, as the father of BBC journalist Louis Theroux, Paul Theroux also doubles as the author of fiction novels. Most of them will feature some exotic town, travel being the constant in the man's life obviously.
This novel about the last days of Hong Kong starts with an average character, leading a fairly ordinary life. As the heir of his father's and his father's companion's fortune, he leads and owns a factory in the still very British colony. But things are about to change. Bunt is living with his old mother, doing his work and hardly mingles with any Chinese, apart from the odd liaison with a girl in his factory or the strippers he meets in dodgy bars.
But as the takeover approaches, at least it feels like a takeover, Hongkong is preparing itself for Chinese leadership. Bunt isn't prepared. He is so extremely British; he can't imagine himself in a different country. Then he gets an offer he can't refuse. Or does he? The consequences reach much further than he can possibly imagine.
I prefer his travel books.
Quote: "There were days that Hongkong appeared nothing different from a suburb in London, where they had lived before the war." (P.7)
Number: 08-059
Title: De laatste dagen van Hongkong (Orig.: Kowloon Tong. The last days of Hong Kong)
Author: Paul Theroux
Language: Dutch (Orig.: English)
Year: 1997
# Pages: 238 (11700)
Category: Travel
ISBN: 90-254-9950-3