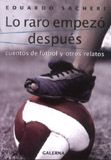 Eduardo Sacheri – Lo raro empezo despues (08-068)
A few years ago while travelling in Argentina, I visited several bookshops in Argentina, searching for some local football literature. My Spanish isn't fluent, but I feel confident to read in it. Obviously, football, almost a religion in South America should have been enough for many shelves in local bookshops. I was disappointed. Nothing about the World Cup in 1978; not even much about the best footballer ever to have graced the pitches in this world.
On the bestseller table more to the front of the shop, I bumped into several books by Eduardo Sacheri. I had never heard of him, but as one seemed to be about football I decided to buy it.
Esperandolo a Tito
was a great discovery. I really loved his short stories and was really disappointed when I finished the book. Where to find new books, I don't travel to Argentina often. I searched in several bookshops in Spain, searched for translations, but was never successful. The only option left was having them send from Argentina.
It worked; I found a shop in Santa Fé and bought another book on-line. This summer, when in Spain, I started reading it. It wasn't easy; I only use my Spanish a couple of times every year, so I could do with a bit more practice. But even then, talking is easy compared to reading a book with plenty of local colloquialisms. I had to finish the book back home, but time caught up with me. I had started other books and this book started staring at me, as if pleading 'please finish me'. I had to, apart from that Sacheri deserves it. His stories are too amusing, too well thought of, to ignore them. So after a few months, I did finish reading it.
The subtitle of the book says 'stories about football and other novels'. Not just about football then, but Sacheri's world is bigger than just writing about the beautiful game. Though stories about football games in his (or his character's) childhood still are a highlight in a book that is fun to read from start to finish. The replacement goalie who gets a chance at revenge after years of waiting, the story about 'el pibe' (a typical Argentine word for a small but very creative player) El Chato, a holiday romance because or despite the World Cup in Italy, Sacheri always knows how to keep the reader entertained. A romantic at heart, in love, but also in his love for the game, he seems a good example of the South American spirit.
I'll have to search online for another book soon I guess.
Quote: "De vez en cuando Victoria me miraba en sonreíamos. De buenas a primeras yo tenía algo con ella. Algo en lo que nadie más participaba." (p.42)
Translation (mine, hence free, possibly not completely correct): "Time and time Victoria looked at me and we smiled. For sure, for now, there was something going on with her. Something that didn't involve anyone else".
Number: 08-068
Title: Lo raro empezó después
Author: Eduardo Sacheri
Language: Spanish (Argentina)
Year: 2006
# Pages: 302 (13992)
Category: Short stories
ISBN: 950-556-451-1