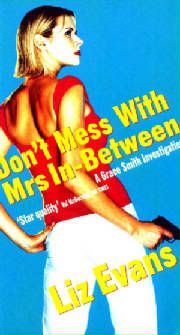 Liz Evans – Don't mess with Mrs In-Between (08-081)
Compared to previous books I read by Liz Evans, (
Sick as a Parrot
,
JFK is missing
and
Who Killed Marilyn Monroe
), this book took me too long. It was all a bit far fetched, less humorous, too many unexpected hence unrealistic twists.
Don't read me wrong, I did enjoy reading this book, but it just wasn't as good as other books I read by her. Grace has to find three people with only some pictures as help. Obviously things are never as straightforward as they seem and she ends up in a murder case, with people smuggling thrown in as an extra, a MP and her son as extra characters and (former) colleagues as complicating factors.
One more book for me to be read by Liz Evans. Unless she writes a new one before I get my hands on the last volume.
Quote: " 'I was held up by a geriatric lunatic with a set of teeth he borrowed from a cart-horse, and a loaded shotgun.' 'That'll be Dad,' Harry Rouse said, leaning over the top bar to test the leather bindings. " (p.40)
Number: 08-081
Title: Don't mess with Mrs In-Between
Author: Liz Evans
Language: English (UK)
Year: 2000
# Pages: 345 (16791)
Category: Crime
ISBN: 0-75282-539-9