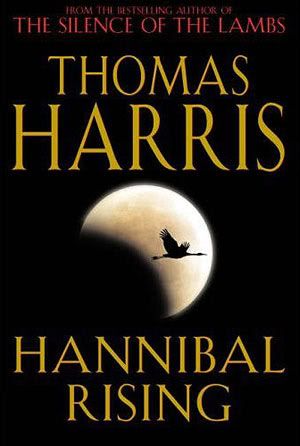 Thomas Harris – Hannibal Rising
After the huge success of The Silence of the Lambs, the moderate success of the follow up Hannibal, film producers almost begged Harris for a sequel. It was quite difficult. Lecter with one hand less than before obviously has lost some of his appeal.
A prequel seemed the logical solution. Hence we meet the little Hannibal, only eight years old, incredibly intelligent (are we surprised?), growing up in Lithuania, in the castle that has been in his family for over five centuries. World War II is nearly over, but leaves its marks on the little boy. Inside the little boy's head to be more precise. Hannibal is looking after his little sister Mischa, though fails to meets his own standards.
Lecter as we know him from books and movies later on in his life, is addicted to justice, doesn't mind extreme measures to take revenge if he thinks the situation asks for it.
Growing up in Paris after the war is difficult for him. At first he doesn't speak at all. Later, raised by his uncle and his Japanese wife, Lecter becomes a young adult searching for justice. He is studying to become a doctor, loves art and speaks several languages fluent. And in the meantime he is trying to get rid of a war trauma.
Not a bad book, with only one huge disadvantage, it can never be seen separately from the brilliant follow up, written decades earlier. Now it is a weak prequel, to obvious written with less artistic purpose but more monetary reasons.
Quote: "Hannibal pulling free running to the door after them, the barn door slamming on his arm, bones cracking, Blue-Eyes turning back to raise the firewood stick, swinging at his head, from the yard the sound of the axe and now the welcome dark." (p. 237)
Number: 09-001
Title: Hannibal Rising
Author: Thomas Harris
Language: English (US)
Year: 2006
# Pages: 384
Category: Thriller
ISBN: 978-0-099-48984-9