I'm not really a car addict, unlike most men. The barrel I'm driving in at this moment was bought nearly five years ago, it had more than 40.000 k on the clock (I do know the lingo). Over a year later I suddenly notice 55.555 in the corner of my eyes. And as I had just bought a digital camera then, it seemed a good idea at the time to take a picture with a lot of sixes. So 11.000 km further I was driving with the camera on my lap and took the picture I was hoping for. Obviously I noticed what went wrong as well. The daycounter should have been the same. It wasn't
A bit more calculating and nine thousand kilometers down the road, I started preparing for what would have been the picture of my life. A lot of sevens. And not just the counter itself, the day counter included. At the right moment I reset that counter to zero and had a lot of anticipatory fun. I failed miserably. Over two years ago I wrote about it with
the pictures
and story about my failed project. A frustrating experience.
I gave up on the idea with a lot of eights. But when the clock was over 90.000, the itch came back. Nine nines, a very unique picture. Much better than nine sevens, the failed project. Better than five sixes, a worthless picture by now. Nine nines, the ultimate picture. Nearly thousand kms beforehand I adapted the day counter, exactly at the right moment, the picture was still possible, waiting for the moment to happen.
During the Christmas break I started calculating. Things weren't getting easier. If my child would be born a bit late, it seemed likely that nine nines would appear on the way to hospital. How do I explain to someone who is just suppressing a contraption that she has to take a great picture for my LiveJournal? Not only that, but that the moment is short. I will probably be driving myself, a bit over the speed limit seems likely. Let's say 120 where I can drive 80. The very moment will last for approximately three seconds at that speed. But will she help me? I've got one advantage. The camera will certainly be with us at that moment.
Suus seemed to have understood my dilemma and arrived exactly as planned. A few days later when I went to pick her up with her mother, I took a small detour. At a traffic light I did one trial
snapshot
and then drove on. And when searching for a parking space (not easy:
local paper
, Dutch alert), the moment was finally there. The moment I had been waiting for, for over fifty thousand kilometres: nine nines.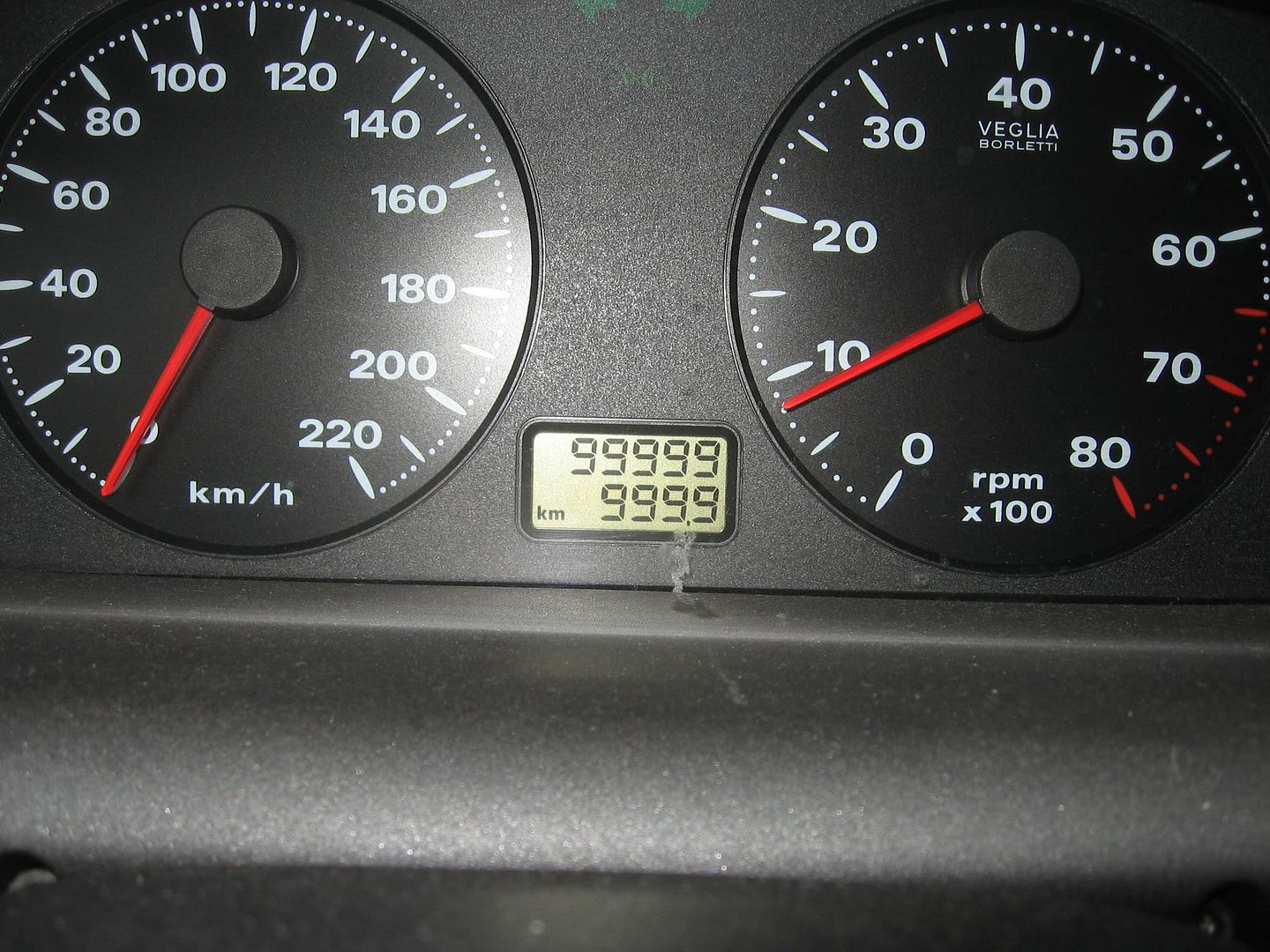 An hour later I drove home contently with the two ladies aboard. Little did they know that my happiness had more than just the obvious reasons.