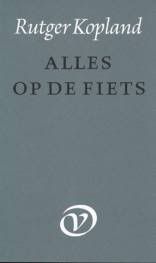 Rutger Kopland – Alles op de fiets (09-036)
Nog 11 minuten en mijn trein gaat, het is een minuut of 8 lopen en ik moet ook nog een kaartje kopen. Maar in de trein moet ik natuurlijk wat te lezen hebben. Op zo'n moment duik ik snel even naar de sectie Poëzie in mijn boekenkast. Niet echt een uitgebreide collectie, niet echt representatief, geen klassiekers, maar goed, op dat moment wel nuttig.
Ik grijp Rutger Kopland. Al 17 jaar in mijn kast (het is een 'lijster' uit 1992), maar nog nooit gelezen. Ideaal dus. Past in mijn binnenzak, vult precies de 20 minuten die ik in de trein doorbreng.
Maar nu inhoudelijk. Lastig. Het ligt natuurlijk aan mij, maar veel poëzie weet mij gewoon niet te raken. Zinnen die halverwege worden afgebroken en dan in een nieuwe alinea weer verder gaan, het kost mij moeite. Ik snap ook best dat het niet allemaal zo eenvoudig hoeft als Dijkshoorn, maar in al zijn simpelheid zijn diens gedichten soms volgens mij net zo diep als die van erkende dichters.
Het beroemde gedicht 'Jonge sla' staat in deze bundel, net als 'De dwaas bij het raam' geïnspireerd door 'The fool on the hill' van Lennon en McCartney. Mijn favoriet? Ik denk toch 'Onze gasfabriek'.
Toch maar één gedicht integraal dan:
DE DRIE MOGELIJKHEDEN VAN HET
MENSELIJK DENKEN
Op de fiets gaat alles wel langzaam
maar toch nog behoorlijk hard.
Wie heel goed luistert aan een stilstaand
horloge hoort een zacht tikken.
Waar blijft de tijd? Om daar over na
te denken hebben wij het zwerk.
Nummer: 09-036
Titel: Alles op de fiets
Auteur: Rutger Kopland
Taal: Nederlands
Jaar: 1969
# Pagina's: 46 (7820)
Categorie: Poëzie
ISBN: 90-01-49320-3