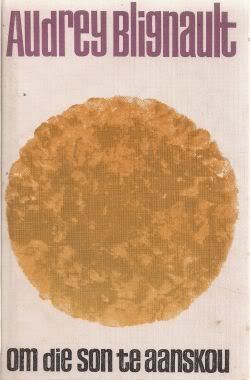 Audrey Blignault – Om die son te aanskou
An unexpected gift from South Africa. Pleasant surprise. Though Afrikaans is not a language I would claim to speak. Yet, being Dutch, reading a language with the same origins is a challenge and I never ran away for a challenge.
I tried to read the book, did manage to finish it. Yet, the real essence, the second layer did go past me. The book is a sad history about having to live without the love of your life. Audrey lost her husband in an accident, survived herself, but has to learn how to cope with his absence the years after.
Often her life leads to another memory of her beloved husband. Halfway through the book it made me lose interest. Not because it is a bad book, but because my knowledge of Afrikaans is too limited to grasp the deeper meaning that I suspect must be there.
Quote: "Dit was nog altyd só: of ek nou dansbly is, of skroeikwaad of wegkruiphartseer, el móét met iemand daaroor praat, vir iemand vertel wat gebeur het en hoe ek daaroor voel en wat ek nou gaan maak. (p.36)
Number: 10-010
Title: Om die son te aanskou
Author: Audrey Blignault
Language: Afrikaans
Year: 1968
# Pages: 78 (1879)
Category: Memoirs
ISBN: 0-624-00104-0