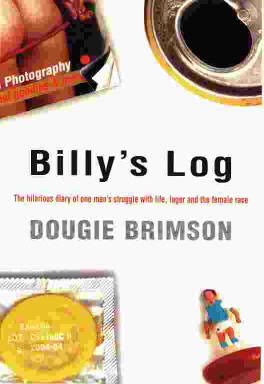 Dougie Brimson – Billy's log
Mike Gayle heb ik wel eens vergeleken met Chicklit. Zijn boeken zijn eigenlijk niet de mannelijke tegenhanger, maar blijken gewoon Chicklit voor mannen. De echte tegenhanger moet de 'Ladlit' zijn. Boeken als deze van Dougie Brimson. Tot nog toe kende ik hem vooral van boeken over voetbalfans. Hooligans is misschien een beter woord. Een interessante subcultuur, maar na een boek of vier ben je daar wel mee klaar gok ik.
Welkom Billy Ellis. Geschreven voor weblogs bekend werden, maar in een stijl die daar perfect bij zou passen. Een log is uiteindelijk een soort dagboek. We volgen de hoofdpersoon een jaar lang in zijn strijd met het leven. Een strijd waarin hij een poging doet volwassen te worden. Tenslotte nadert hij de dertig, heeft hij nog steeds geen vriendin, baalt hij van zijn werk en is de enige vastigheid in zijn leven een seizoenskaart van Watford.
Billy is een typische Engelse lad. Hij gaat naar de pub met zijn mates, hij volgt zijn clubje en vindt dat erg belangrijk, is op kantoor drukker met lageschoolgeintjes dan met het werk zelf en heeft geen idee wat er in het hoofd van een vrouw omgaat.
Brimson beschrijft het jaar van Billy op een komische manier, er zit toch ook een serieuze ondertoon in het boek, dat je op het eerste gezicht niet meteen ziet, maar die er wel degelijk in verwerkt is. Een bekend principe uit de literatuur natuurlijk,
coming of age
, al geloof ik niet dat Brimson snel tot de literatuur gerekend zal worden.
Leuk boek, snel gelezen.
Citaat: "Went for a post-work drink and a pizza with Liz and, among numerous other things, discussed the issue of porn. Something we are both highly qualified to discussed but for different reasons." (p.129)
Nummer: 11-014
Titel: Billy's log
Auteur: Dougie Brimson
Taal: Engels (UK)
Jaar: 2000
# Pagina's: 312 (4687)
Categorie: Fictie
ISBN: 0-7472-6386-8
Meer:
Dougie Brimson.com
Top dog