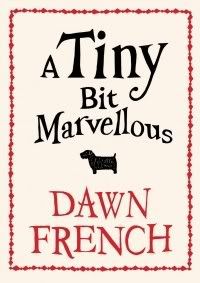 Dawn French – A tiny bit marvellous
Vorig jaar op mijn verjaardag gekregen, van mijn zusje, zoals veel goede boeken in mijn kast. Tien maanden later zie ik ineens dat de Nederlandse vertaling uitkomt. Moet ik het boek vrij 'vers' hebben ontvangen. Nu is een boek van French geen verrassende keuze. Mijn gevoel voor humor heeft veel te maken met de Engelse serie 'Comic Strip'. (
IMDB
) Indirect is Monty Python natuurlijk de grondlegger, maar ik bestond nog niet eens toen die serie voor het eerst te zien was.
Maar de makers van Comic Strip Presents, een serie die in Nederland nooit echt aansloeg, zijn ook de mensen in en achter The Young Ones, Bottom, Absolutely Fabulous, A bit of Fry and Laurie, The Vicar of Dibley en vele andere goede Britse komedies. Grappig om te zien dat velen sindsdien ook boeken hebben geschreven. Stephen Fry en Ben Elton zijn tegenwoordig zelfs meer schrijver dan wat anders, maar ook Adrian Edmonson, Hugh Laurie en Alexei Sayle staan in mijn boekenkast. In dat rijtje staat nu ook Dawn French.
Toch viel dit boek me niet mee. Waar vooral Ben Elton er in slaagt om iets van zijn engagement in zijn romans te verwerken, is het debuut van Dawn French vooral lectuur met niet al te veel diepgang. Sterker nog, het verhaal kwam niet echt op gang, leek af te streven op een stapel papier zonder plot. Gelukkig viel dat gaandeweg toch nog mee, maar ik kan niet echt dolenthousiast worden van dit boek.
Het verwisselen van standpunt werkt weliswaar goed, maar de karakters zijn zo verdomd eendimensionaal dat je na een bladzijde of dertig al kunt voorspellen hoe het volgende hoofdstuk er uit zal zien. Niet verwijtbaar, maar het is wel te zien dat French vooral schreef voor sketches. De 'cast' is een verzameling extreme stereotypes. De homofiele intellectuele zoon ("I merely breathe. I do not live a life worth living"). De opstandige tienerdochter ("I know I'm supposed to like be revising 'n' shizz but it's not my fault Mum took me to see the nurse just before exams.") en de onzekere van binnen maar zeker naar buiten toe moeder, tevens psycholoog, maar ondertussen begrijpt ze haar eigen kinderen niet ("Surely I am not replacing my ever-diminishing relationship with my own adolescents with an equally challenging injection of youth in the form of a young lover?"). De anderen in het boek zijn bijrollen, zelfs 'Dad' komt pas in hoofdstuk 74 voor het eerst aan het woord. De belangrijkste bijrol is er voor de jonge stagiaire uit Nieuw Zeeland van moeders, die de nodige avances moet zien te ontwijken.
Het verhaal is dus niet al te diep. De karakters eendimensionaal en de plot erg mager. Ondanks dat alles is dit geen vervelend boek om te lezen. Daarvoor heeft French te veel humor, te veel zelfspot. Zo lang er maar geen literatuur wordt verwacht, geen boodschap, geen diepere betekenis, dan kun je een paar aangename uurtjes doorbrengen met dit boek.
Citaat: "I just so love my new puppy? I've decided to call him Elvis coz he's like so huge and black. Like the real Elvis was. Dad like laughed his head off when I told him that." (p. 279)
Nummer: 11-020
Titel: A tiny bit marvellous
Auteur: Dawn French
Taal: Engels (UK)
Jaar: 2010
# Pagina's: 338 (6415)
Categorie: Fictie
ISBN: 978-0-718-15605-3
Meer French:
Comic Strip Presents
Dawn French (IMDB)
Dawn French (Wikipedia)
French and Saunders
Interview
(Telegraph)
Recensie
(Metro)
YouTube interview: