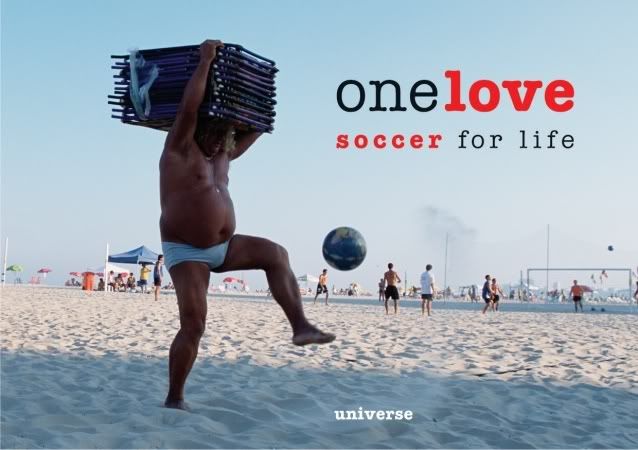 Levon Biss – One love
Boeken met foto's van voetbal, voetballers of voetbalvelden. Een stille verslaving. Al is het dan een selectieve. Ik hoef echt niet alles te hebben. Maar een mooi boek past natuurlijk wel in mijn collectie. Nu ben je in de opruimingsbak sneller geneigd iets mee te nemen. En zo investeerde ik toch wel bijna vijf euro in dit boek, toen ik het tegenkwam in Münster.
En het gaat toch ook wel een beetje tegen mijn principes in. Een boek dat oorspronkelijk verscheen in het Engels en vertaald werd naar het Duits. Maar de foto's gaven uiteindelijk toch de doorslag.
Na lezing bleef het tweeslachtige gevoel. Erg mooie foto's, maar had er niet iets meer variatie in gemogen? Leuke citaten tussendoor. Maar allemaal net iets te veel van hetzelfde. Van zijn reis naar Indonesië komen tientallen foto's terug, door het hele boek heen. Brazilië, idem dito. Het boek had van mij dunner gemogen. Een handvol echt goede foto's per land was mooier geweest. En dan een paar landen meer misschien. Nu was het halverwege bijna voorspelbaar welke foto aan de beurt was.
Ondanks dat, blijft het boek gewoon op de plank voetbalfotoboeken staan, want Levon Biss heeft toch wel een heleboel mooie foto's gevonden die de moeite waard waren en nog steeds zijn.
Citaat: " Fussball ist ein einfaches spiel. Das schwieriche dabei ist nur, fussball auf einfache weise zu spielen. Johan Cruijff." (p.185)
p.s. Ik denk dat ik een goedkope herdruk heb gevonden, want er staan tweedehands exemplaren voor liefst 500 dollar te koop via Barnes and Noble..
Nummer: 11-029
Titel: One love
Auteur: Levon Biss
Taal: Duits (Orig.: Engels)
Jaar: 2006
# Pagina's: 382 (9669)
Categorie: Sport (Voetbal)
ISBN: 978-3-89660-298-5
Meer:
Official site
Wikipedia
Barnes and Noble
Amazon