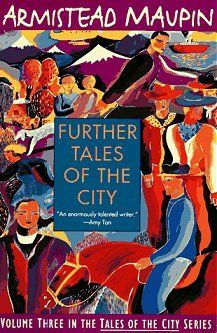 Armistaud Maupin – Further tales of the city
Twee boeken van hem vond ik ooit in Saalbach, toen ik daar werkte. Anderhalf decennium geleden dus. De
eerste
las ik een paar jaar geleden. Ik was niet echt onder de indruk. De tweede had ik bij me op vakantie, afgelopen februari. Ik begon nog optimistisch. Waar ik dat optimisme vandaan haalde, geen idee. De eerste bladzijde kostte me moeite, de tweede werd het erger.
Op de derde bladzijde begon het tweede hoofdstuk. "Green-collar Gays, in Michael's lexicon, included everyone who dealt with beautiful things in a manly, outdoorsy fashion: nurserymen, gardeners, forest rangers and some landscape architect. Florists, of cours, didn't qualify." Ik had het gehad. Ik heb het hoofdstuk nog uitgelezen, tot en met bladzijde dertien dus, maar ik trok het niet meer.
Dit is Gay-literature met de nadruk op de hoofdletter G. En met literatuur heeft het eigenlijk weinig te maken. Er zal vast een doelgroep voor zijn, zeker in San Francisco. Misschien daarbuiten ook wel, maar het ligt er allemaal zo dik bovenop, het is zo weinig subtiel, het stoot de buitenstaander volgens mij af. Mij in ieder geval wel.
Voor het eerst sinds heel veel jaren heb ik dus een boek niet uitgelezen. En niet uitgelezen is eigenlijk een understatement, want verder dan een handjevol bladzijden ben ik niet gekomen.
Citaat: "Ned held his own quite well. Blessed with a sexual aura that bordered on mysticism, he proceeded to win the heart of every man, woman and animal that crossed his path. It was not so much his beauty that captivated them but his innate and almost geldelijke gift for attentiveness. He listened to them in a town where no one ever listened at all." (p.12)

Nummer: 12-010
Titel: Further tales of the city
Auteur: Armistead Maupin
Taal: Engels (US)
Jaar: 1982
# Pagina's: 271, waarvan gelezen 13 (1332)
Categorie: Gay
ISBN: 0-552-99106-6
Meer:
Tales from the city
Official website
Wikipedia
(Maupin)
Wikipedia
(further tales)
Google books
IMDB
(televisieserie)