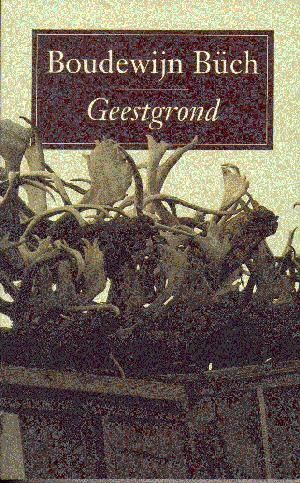 Boudewijn Büch – Geestgrond
Veel, heel veel heb ik er gelezen. Toch zijn het voornamelijk zijn reisboeken die mij nog steeds enthousiast maken. En zijn DVD's met de reisprogramma's die hij maakte voor de Vara nog meer.
In de stapel afgeschreven boeken bij de bieb lag toch nog een boek van hem, ik wist uit het hoofd niet meer of ik het al had, maar kon me geen buil vallen. Een euro voor een dubbel exemplaar, geen probleem. Eenmaal thuis zag ik dat deze in de trilogie zit die ik ooit optimistisch aanschafte, maar sindsdien nooit meer heb opengeslagen. Ik besloot meteen maar te beginnen.
Een jaar of twintig geleden moet ik het gelezen hebben, gok ik. Het boek is dat nog niet, dus mijn geheugen laat me in de steek. Ik heb ondertussen ook het idee dat meerdere boeken hetzelfde zijn. Kleine Blonde Dood, De Hel, deze, nog een of twee. Allemaal over Winckler Brockhaus, semi-autobiografisch (die discussie ga ik niet aan, heeft menig expert al gedaan), de problematische band met zijn vader van zich afschrijven.
In dit boek reis hij her en der over de wereld om zijn vader alsnog beter te leren kennen. Zware onderwerpen, licht beschreven. Wel knap, dat contrast. Het leest dus wel lekker, al heb ik soms het idee dat er bewust vaag omheen geluld wordt, dat de diepere mening vooral niet duidelijk mag worden. Misschien toch nog eens die trilogie doorwerken?
Citaat: "Weet je dat je vader hoopte dat jij van dat jongensgedoe af zou komen als ik jou zou versieren? Eigenlijk was onze relatie therapeutisch bedoeld. Niet voor mij, hoor, maar voor jou. Begrijp je?" (p.108)
Nummer: 12-029
Titel: Geestgrond
Auteur: Boudewijn Büch
Taal: Nederlands
Jaar: 1995
# Pagina's: 154 (5086)
Categorie: Fictie
ISBN: 90-295-0784-5
Meer:
Athenaeum
Scholieren.com
Achille van den Branden
Over Redmon O'Hanlon
Zingende botten
Het ijspaleis
Voorgoed verliefd