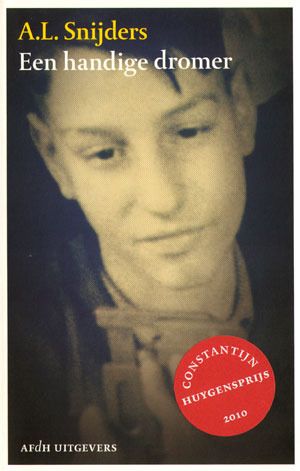 A.L. Snijders – Een handige dromer
Al een tijdje volgde ik zijn stukjes in de krant. Hij was de godfather van het ZKV, het zeer korte verhaal. En niet voor niets. In een alinea (of twee, drie), kan hij een heel verhaal vertellen. Prachtige schetsen, gedachtekronkels, observaties. Erg leuk om te lezen.
Vorig jaar was hij te gast in Diepenheim, hij mocht een culturele avond samenstellen. De moeite van het bezoeken meer dan waard. Voorlezen, gasten, een mooi inzicht in de geest van een goed schrijver. En natuurlijk naar huis met een gesigneerd boek.
Een recensie van dat boek is echter lastig. Hoe bespreek je zkv's? Voorbeelden er uit pikken en daar op ingaan? Zoeken naar een gemeenschappelijke deler? Sterke, zwakke kanten benoemen? Ik weet het niet. Wel weet ik dat het een geweldig boek was om te lezen, een paar verhalen tegelijk.
Beter is gewoon zelf te lezen. Of luister eens naar hem, via YouTube of op andere manieren. Of meteen een boek kopen, u zult niet teleurgesteld worden.
Citaat: "In de krant van vanmorgen legt een Roomse priester uit dat alleen onder het Christendom een beschaafde samenleving kan ontstaan. Ik ken deze opvatting al mijn hele leven. Op mijn vijftiende hoorde ik haar voor het eerst. Ik herinner me hoe kwaad ik was, de machteloze woede om de arrogantie. Nu kan het me niets meer schelen, om folklore kan ik niet kwaad meer worden." (p.144)
Nummer: 12-038
Titel: Een handige dromer
Auteur: A.L. Snijders
Taal: Nederlands
Jaar: 2010
# Pagina's: 224 (6831)
Categorie: Zkv
ISBN: 978-90-72603-23-4
Meer:
Het uur van de wolf
(documentaire)
Tzum
Een handige dromer uitgelegd
(YouTube)
Wikipedia
Schrijversinfo
'goed volk'
voorgelezen