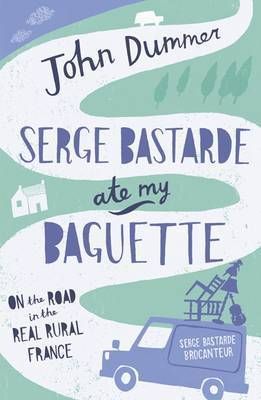 John Dummer – Serge Bastarde ate my baguette
Al een tijdje niet meegemaakt, dat moment op vakantie dat je niets te lezen hebt. En eigenlijk klopte dat ook niet, maar het Franstalige boek dat ik aan het lezen was, lag in de stacaravan, terwijl dochter had besloten dat de speeltuin haar plek zou zijn voor de komende minuten, kwartieren of zelfs uren. De campingbibliotheek bood uitkomst. Niet de kast met Nederlandse boeken, daar stond zelfs per ongeluk geen boek tussen dat ik zou willen lezen. Wat lezen mensen toch een bagger (op vakantie?), of ligt dat toch aan mijn smaak?
Hoe dan ook, ook de Engelstalige sectie had weinig aanbod dat me aanstond, dus eindigde ik met dit boek in mijn handen, aan de rand van de zandbak, op een hekje in de schaduw. De titel deed me vrezen voor het ergste. Een woordgrapje met een Franse naam in de titel, wel erg voorspelbaar. Maar al snel leefde ik mee met de voormalige drummer die in Frankrijk een leven probeerde op te bouwen als brocanteur.
Hij deed dit aan de hand van een Fransman die daadwerkelijk Serge Bastarde heette. Soms gingen ze samen op pad, de volgende keer kwamen ze elkaar tegen op een marktje ergens in zuidwest Frankrijk.
Wat volgt zijn een verzameling grappige anekdotes, een klein beetje drama en flink wat reflectie. Culturele percepties zijn altijd een goede bron van vermaak.
Geen boek waar je lang aan terug zal denken, wel leuk vakantievermaak.
Citaat: "Maybe the original intention had been to magnify God in all his glory. But it appeared to me that the Church had hijacked something simple and moving to use for its own political ends. It reminded me of everything I found distasteful about organised religion." (p.190)
Nummer: 12-039
Titel: Serge Bastarde ate my baguette
Auteur: John Dummer
Taal: Engels (UK)
Jaar: 2009
# Pagina's: 260 (7091)
Categorie: Travel
ISBN: 978-1-84024-770-1
Meer:
Twitter
(John Dummer)
My Space
(John Dummer)
Interview met John Dummer
(A taste of Garlic)
Amazon
(Serge Bastarde)