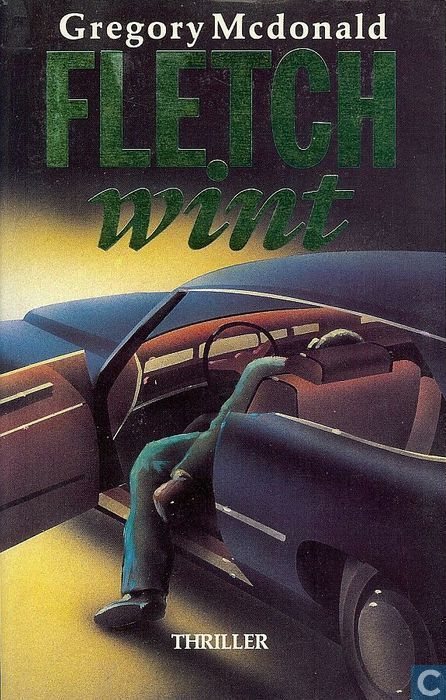 Gregory Mcdonald – Fletch wint
Meerdere boeken las ik al over Fletch. Zag zelfs al eens een film met Chevy Chase, maar meer dan een paar absurde vermommingen zijn niet blijven hangen. Maar er stonden toch meerdere boeken over de journalist Irwin Fletcher bij mij op de planken. Mag dus weg. Kon nog net in het thema van 2012.
Het boekje wordt op de voorpagina als 'thriller' omschreven, al zit de sticker dat het was afgeprijsd van 10.00 naar 2,50 bijna daar overheen. Gulden natuurlijk. Ik kon me er ook niets van herinneren, misschien toch destijds niet gelezen?
Wel was ik er snel doorheen. Geen zwaar boek. Bij vlagen wel grappig, maar zeker niet zo komisch als men in de films wil doen geloven. En als te verwachten viel hadden de twee verhaallijnen die zo ver van elkaar weg leken natuurlijk met elkaar te maken. Toeval speelt een belangrijke rol, wat in veel thrillers overigens wel gebruikelijk is.
Leuk voor in de trein of in een wachtkamer, niet een om te onthouden of om te bewaren.
Citaat: "Dus, na eerst geluisterd te hebben naar de klinkklare nonsens die onze nieuwe, crimineel georiënteerde cliënt heeft zitten uitkramen, legt Haller hem uit dat veel van zijn inbrekende collega's de firma Habeck, Harrison en Haller op jaarbasis op hun loonlijst zetten. Een soort beroepsverzekering, begrijp je." (p.49)
Nummer: 12-053
Titel: Fletch wint (oorspr.: Fletch won)
Auteur: Gregory Mcdonald
Taal: Nederlands (oorspr.: Engels)
Jaar: 1988 (oorspr.: 1985)
# Pagina's: 223 (9998)
Categorie: Whodunit
ISBN: 90-245-1651-x
Meer:
Quotes via IMDB
Google books
Angelfire
Wikipedia over Fletch won