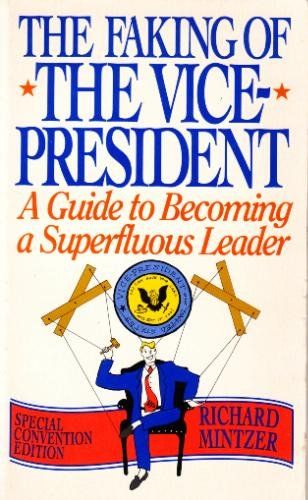 Richard Mintzer – The faking of the vice-president
Sinds september heb ik op zaterdagochtend een dik half uur leestijd. In de kleedkamer naast het gymzaaltje waar Suus aan het gymmen is, plant ik mezelf in het hoekje en kan lezen. Niet altijd, soms zijn er andere ouders die ook blijven hangen en is het er gezellig, een enkele keer doe ik ook een boodschap die kort duurt, maar meestal blijf ik gewoon wachten tot de les voorbij is. Een dun boekje in de jaszak en heerlijk een half uurtje, bijna veertig minuten lezen.
De keuze voor boekjes is dan ook aan een aantal niet literaire voorwaarden ingegeven. Het moet een simpel boekje zijn, Dostojevski leent zich nu eenmaal wat minder voor 'even tussendoor' lezen. Het moet een licht boekje zijn, in mijn jaszak neem je 'Oorlog en vrede' niet mee natuurlijk. Dus trok ik dit exemplaar op een vrijdagavond uit de kast, ooit voor een gulden gekocht bij de American Bookstore. Tijdens de twee perioden dat ik in onze hoofdstad mocht wonen, was dit een van mijn favoriete boekhandels, toen nog in de Kalverstraat.
Het type boek past perfect bij de oppervlakkigheid van de Amerikaanse samenleving, die ik pas later herkende en die me nog later steeds meer ging storen. De humor is daardoor ook simpeler. Er zit geen diepgang in, geen dubbele modem, geen moraal. Veel Amerikaanse humor is dan ook tekenfilmniveau. Dit boekje is niet anders. Een top tien a la Letterman. Een stukje geparodieerd als op YouTube. Een column gericht op de lezer van USA Today.
En dan zitten er best wel eens bladzijden of hoofdstukken tussen die grappig zijn. Maar ook vele tenenkrommende stukjes. Mede daarom maar goed dat dit geen dik boek was. Geen boek waarmee ik een lange vliegreis mee door moet komen. Het was een tussendoortje, in tijd, in niveau, in alles.
Citaat: "A 1979 poll indicated that the public felt there were 123 people more capable than Walter Mondale to be vice-president. The list included John Travolta, Alan Alda, disco star Gloria Gaynor and both Laverne and Shirley." (p.65)
Nummer: 12-055
Titel: The faking of the vice-president
Auteur: Richard Mintzer
Taal: Engels US
Jaar: 1992
# Pagina's: 96 (10285)
Categorie: Humor
ISBN: 0-399-51729-4
Meer:
Amazon
(boeken van Mintzer)