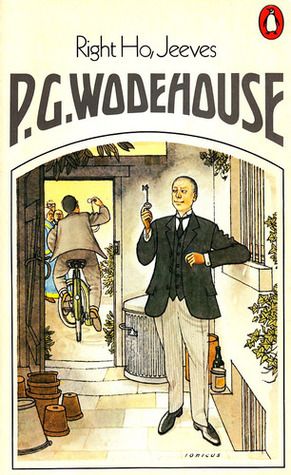 P.G. Wodehouse – Right Ho, Jeeves
Ik vind DailyLit een geweldige site. Literatuur in je E-mail. Elke dag een stukje, langzaam maar zeker door een boek. Ik heb al een aantal boeken op die manier gelezen. Ben er ook achter dat niet elk boek er even geschikt voor is. Ten eerste moeten de boeken rechtenvrij zijn, per definitie dus flink oud, maar het verhaal moet ook passen. Zo is het mij nog niet gelukt om Dante's Inferno te lezen, daarvoor moet je je blijkbaar beter concentreren, daarvoor moet je het verhaal in kunnen duiken.
Dat is bij de boeken van Wodehouse niet perse noodzakelijk. Daarom zijn ze zeker niet minder goed, maar wel een stuk eenvoudiger om in brokjes van een tot twee minuten elke dag tot je te nemen.
Jeeves is altijd twee stappen verder dan zijn werkgever Bertie Wooster. Dit is goed voor het verhaal, oerbrits, vol humor, beschreven in mooie taal.
Citaat: "Don't you love this time of the evening, Mr. Wooster, when the sun has gone to bed and all the bunnies come out to have their little suppers? When I was a child, I used to think that rabbits were gnomes, and that if I held my breath and stayed quite still, I should see the fairy queen."
Nummer: 12-058
Titel: Right Ho, Jeeves
Auteur: P.G. Wodehouse
Taal: Engels (UK)
Jaar: 1934
# Pagina's: 186 (10739)
Categorie: Fictie
ISBN: nvt
Meer:
Wikipedia
Goodreads
Page by page books
Voorgelezen
(via YouTube)
Amazon
Project Gutenberg
(free books)
DialyLit