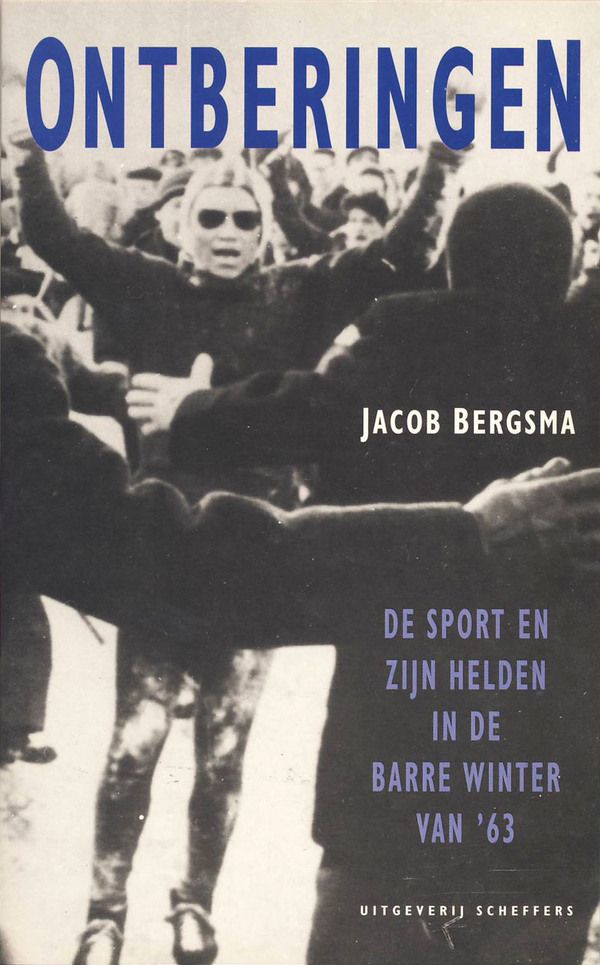 Jacob Bergsma – Ontberingen
De tijdgeest zorgt ervoor dat er nog maar nachtvorst aangekondigd hoeft te worden of het woord Elfstedentocht valt en alle media volgen slaafs de waan van de dag. Vreemd, maar het is niet anders.
Toch is lezen over de Elfstedentocht niet verkeerd. In het verleden heb ik al vele boeken gelezen over heroïsche tochten, maar geen tocht werd zo vaak beschreven als de tocht van 1963. Dit jaar 50 jaar geleden dus, op televisie en in kranten werden we er regelmatig aan herinnerd.
Dit boekje van Bergsma is al vele jaren geleden geschreven, zelfs nog voor de laatste elfstedentocht. Ooit in een opruimingsbak gekocht voor het merkwaardige bedrag van 1,13 euro, dacht ik nog eens het verhaal van Reinier Paping en cachotten te lezen. Ik had het mis. Het verhaal, eigenlijk een serie artikelen, gaat vooral over het leven in die extreem strenge winter van 1963. Bergsma heeft heel veel research gedaan, honderden uren moeten er zitten in het lezen en zoeken naar informatie voor dit boek. Uiteindelijk is het een mooi tijdsbeeld geworden, al vind ik het boek vrij dun voor zo veel werk.
Het is juist wel leuk om te lezen over voetballers uit die tijd, over hoe de kou het hele land platlegde, over de het leven van de schaatsers. Onverwacht plezier dus.
Citaat: "Training? Dat was een paar keer in de week een eind hardlopen en 's avonds voor het naar bed gaan een paar diepe kniebuigingen. Anton Verhoeven zei tegen mij: "Jeen, wat doe jij voor training?" Ik vertelde hem over die kniebuigingen: eerst 25, later 50 en soms 100 of wel 200 kniebuigingen voor ik naar bed ging." (p.30)
Nummer: 13-003
Titel: Ontberingen
Auteur: Jacob Bergsma
Taal: Nederlands
Jaar: 1996
# Pagina's: 125 (445)
Categorie: Sport (Schaatsen)
ISBN: 90-5546-045-1
Meer schaatsboeken op dit blog:
Marnix ten Kortenaar – Op weg naar het licht
Knut Naerum – Glad ijs
Hylke Speerstra – De koude kruistocht
Glad ijs 1
Maarten Scholten – Ijskampioenen
Meer:
Behance
Literatuurplein
p.s. In dit boek ook een prachtig hoofdstuk over de net overleden Atje Keulen – Deelstra.