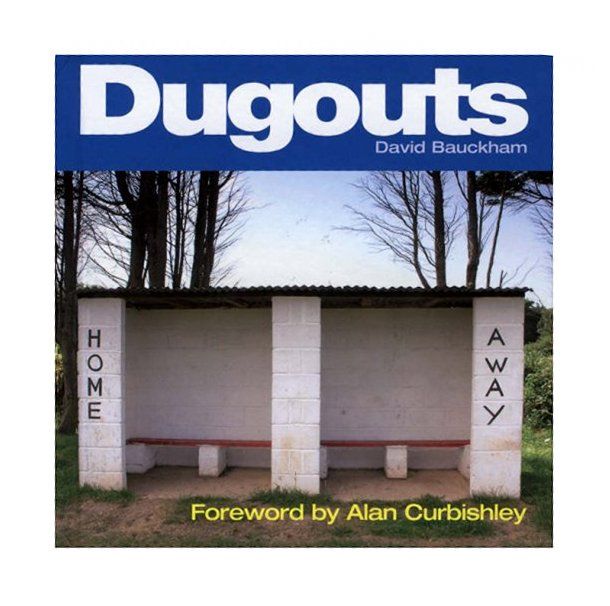 David Bauckham – Dugouts
Voetbalfoto's zijn mooi. Vooral als een goede fotograaf ze verzamelt en bundelt. Maar de kunst is dan vooral om op het detail te letten. Om oog te hebben voor de schoonheid er om heen. Om voetbal als onderdeel van het leven te zien, niet als eigen wereldje waar in de rest van de wereld niet bestaat.
En de mooiste foto's maak je dan op zaterdagmiddag of zondagmorgen wanneer de liefhebbers met weinig of geen talent in de wei staan. Overgewicht, gebrekkige motoriek maar overdosis enthousiasme. Op velden waar gras soms slechts sporadisch aanwezig is, de cornervlag een vaal gewassen vodje is en de reclameborden nog nummers hebben van voor de omnummering in 1995.
Mijn favoriete fotograaf is
Hans van der Meer
, zoals al duidelijk tot uiting komt in mijn eigen pogingen om ook dergelijke foto's te maken, de serie
Van der Meest
. Gelukkig is de wereld veel groter dan Nederland en lopen er in Engeland ook een aantal rond met het juiste oog. En omdat er daar onderin de piramide ook veel knullige clubjes zijn met prachtig gelegen velden en vervallen accommodaties, is daar genoeg inspiratie voor schitterende foto's te vinden.
Bauckham koos de dugout als onderwerp. Meer dan een alinea tekst als toelichting is niet nodig. Nog even vertellen om welke club het gaat, waar die hun thuiswedstrijden spelen en je boek is klaar. En bijna 100 pagina's kom je de vreemdste bouwsels tegen. Op punt van instorten, scheef op het veld, drie dug-outs, onder de tribune, verplaatsbare exemplaren en afsluitbare hokjes. Mooi van lelijkheid is ook een goed vertegenwoordigde categorie.
De namen van de clubs zijn al mooi, zonder de foto's er bij. Hurstpierpoint, Porthmadog, Plumpton Athletic, Cockfield, Swindon Supermarine, Brodsworth Welfare en Wolverhampton Casuals. Ik blijf genieten, zelfs van de index achter in het boek.
Citaat: "The Bloaters were refused vermissing to extend the existing structures or replace them to meet revised ground grading criteria and were therefore forced to build two more. As a consequence there are now two home and two away dugouts at the ground." (p.46)
Nummer: 13-020
Titel: Dugouts
Auteur: David Bauckham
Taal: Engels (UK)
Jaar: 2006
# Pagina's: 96 (3331)
Categorie: Fotoboek (Voetbal)
ISBN: 1-84537-478-9
Meer:
Bauckham's foto's
Flickr
Bauckham
Photoshelter
(Bauckham)
Pyramid Passion