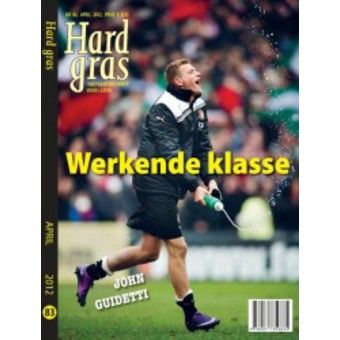 Het eerste woord (buiten het voorwoord dan) in deze aflevering is mijn woonplaats. Het is het begin van een verhaal over John Giudetti in de uitwedstrijd van Feyenoord bij FC Twente. Verhaal is al weer snel achterhaald, de Zweed vertrok, zijn vervanger bleek nog beter.
Geschiedenis lezen we in het verhaal over de Oekraïne, waar zeventig jaar naar dato nog altijd het verhaal leeft over Dinamo Kiev-spelers die tegen Duitse soldaten voetbalden. De film
Escape to Victory
is op dat verhaal gebaseerd. Het verhaal blijkt iets genuanceerder te liggen, zoals zo vaak met verhalen uit oorlogstijd. Goed uitzoekwerk van Tijn Sadee. Wat ik ook niet wist is dat Ado bijna kampioen was geweest. Niet in Nederland, maar in de Verenigde Staten. Prachtig verhaal.
Ook Jesse Wieten die bijna een levenswerk heeft gemaakt van het volgen van Harris Medunjanin, heeft daar mooi over geschreven. De voetballer had meer verdiend, maar op de een of andere manier lukte dat nooit. Jesse heeft daar minstens zo veel onder te lijden gehad als de voetballer zelf.
Citaat: "Tot overmaat van ramp was het in sommige steden niet helemaal gelukt om de werpheuvels van het honkbal helemaal te egaliseren. Van Harry Heijnen, niet de grootste speler van het team, was soms alleen nog zijn kruin te zien als hij achter zo'n heuvel stond." (p.67)
Nummer: 13-031
Titel: Hard Gras 83 – Werkende klasse
Auteur: Diversen (Daan Heerma van Voss, Sjoerd Mossou, Edwin Winkels, Wessel Penning e.a.)
Taal: Nederlands
Jaar: 2012
# Pagina's: 127 (5262)
Categorie: Voetbal
ISBN: 978-90-713-5983-5
Meer:
82
81
80
79
78
77
76
75
74
73
72
71
70
69
68
67
66
65
64
63
62
61
60
59
58
57
56
55
54
53
52
51
50
49
48
47
46
45
44
43
42
41
40
39
38
37
36
35
34
33
31
30
29
28
27
26
25
24
23
22
21
20