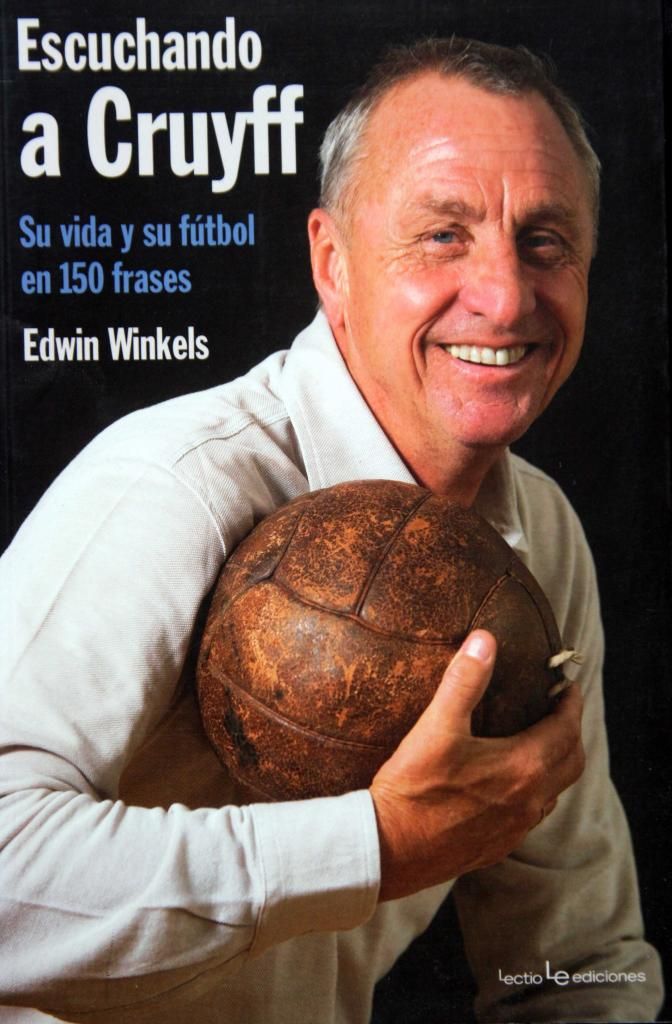 Al jaren was ik onder de indruk van Winkels. Vooral in Hard Gras en De Muur kwam ik zijn verhalen tegen. De kracht van social media is dat hij me vertelde dat hij diverse recensies van ondergetekende had gelezen. Leuk om te horen. Ondertussen zocht ik naar meer van zijn pen (tekstverwerker). Een enkele keer in Spanje, tijdens een stagebezoek of vakantie, las ik 'zijn' krant en kwam een column of artikel tegen.
Zijn eerste roman liet op zich wachten. In de tussentijd zocht en vond ik in Barcelona dit boek over de beste Nederlandse voetballer ooit. Honderdvijftig uitspraken van Cruyff vormden de basis voor een boek, zoals er in Nederland al meer waren, over het taalgebruik van de Amsterdammer.
Dit is leuk om te lezen, de Spaanse kant van het verhaal is een nieuwe hoek voor de meeste Nederlanders. Vooraf was ik niet zeker of het wel mee zou vallen, maar gelukkig is Cruyffiaans niet onbegrijpelijker als het in een andere taal komt. De Catalaanse versie heb ik aan me voorbij laten gaan, daarvoor is mijn kennis niet toereikend.
Door het format wordt Winkels helaas beperkt. Het moet over Cruyff gaan, daar is veel over te vertellen, maar niet onbeperkt. Een aantal anekdotes kwamen dan ook onvermijdelijk meerdere keren voorbij. Daarbij heb ik natuurlijk al veel over hem gelezen in mijn leven, ooit begonnen via de biografie van
Nico Scheepmaker
, dertig jaar geleden en goed voor een acht in een scriptie destijds. Dat maakt het voor Winkels lastig om te imponeren. Niet zijn doel natuurlijk, aangezien sommige verhalen voor de Nederlandse voetballiefhebber gesneden koek zijn, maar in zijn tweede vaderland nog steeds de moeite van het vertellen waard. Andersom zijn de verhalen die in Spanje door elke fan verteld kunnen worden voor Nederlands juist weer interessant.
Kortom, leuk dit boek gelezen te hebben, maar het is niet het sterkste dat ik van Winkels gelezen heb.
Citaat: " Estoy en contra de todo, hasta que tomo una decision; entonces estoy a favor. Me parece logico" (p.83)
Nummer: 13-039
Titel: Escuchando a Cruyff
Auteur: Edwin Winkels
Taal: Spaans
Jaar: 2010
# Pagina's: 175 (6498)
Categorie: Voetbal
ISBN: 978-84-15088-03-5
Meer:
Dit boek op Winkels' site
Taringa.net
Wikipedia
Eigen site