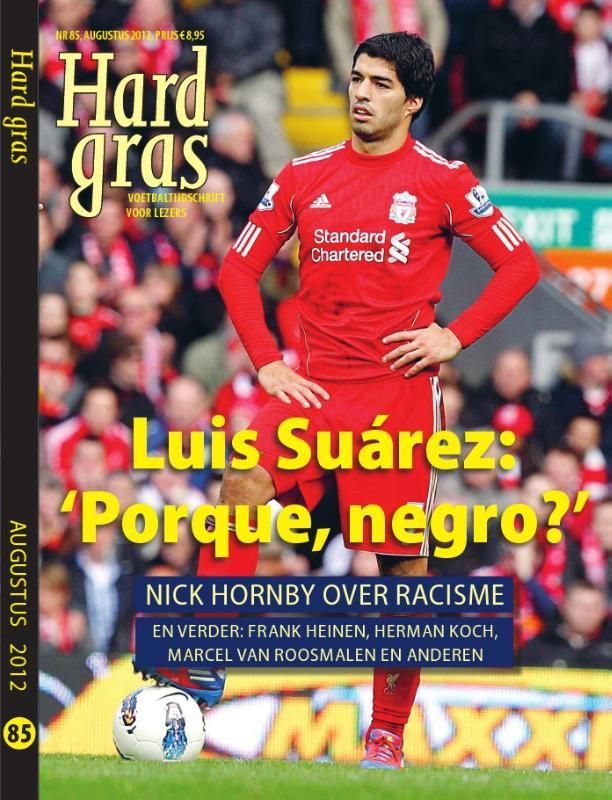 Het titelverhaal is een flinke column van Nick Hornby, meteen gevolgd door zeven tips van Herman Koch. Het lijkt wel of de grote namen hoe dan ook er in moesten deze aflevering. Terwijl beide een bijdrage leveren die nauwelijks de titel kort verhaal mag hebben. Niks mis mee, maar of het zo passend is, heb ik mijn twijfels.
Gelukkig zijn er de bijdragen van Frank Heinen en Marcel van Roosmalen. Beide langer dan de gebruikelijke verhalen in Hard Gras. Beide erg goed. Heinen over Sebastian Deisler, een goed staaltje deskresearch omgezet in een lezenswaardig verhaal, Roosmalen over de Oranje gekte in 2012, de briljante observator als altijd. Elke keer wanneer ik zijn verhalen lees, schaam ik me voor de voorkant van mijn paspoort. Niet een leuke ervaring, wel knap dat een schrijver zoiets kan bewerkstelligen.
Verder weinig bijzonders deze keer.
Citaat: "In zijn vrije tijd probeerde hij de oranjegekte vast te leggen. Hij had foto's gemaakt van een paspop met een oranje shawl om en een doos oranje gebak. Die beelden geef ik de mensen cadeau bij een tweetje. Een mevrouw uit Ulft kwam informeren of ze met Aad op de foto mocht." (p.69)
Nummer: 13-045
Titel: Hard Gras 85
Auteur: Diversen (Nick Hornby, Marcel van Roosmalen, Herman Koch, Frank Heinen e.a.)
Taal: Nederlands
Jaar: 2012
# Pagina's: 120 (7639)
Categorie: Voetbal
ISBN: 978-90-713-5985-9
Meer:
84
83
82
81
80
79
78
77
76
75
74
73
72
71
70
69
68
67
66
65
64
63
62
61
60
59
58
57
56
55
54
53
52
51
50
49
48
47
46
45
44
43
42
41
40
39
38
37
36
35
34
33
31
30
29
28
27
26
25
24
23
22
21
20