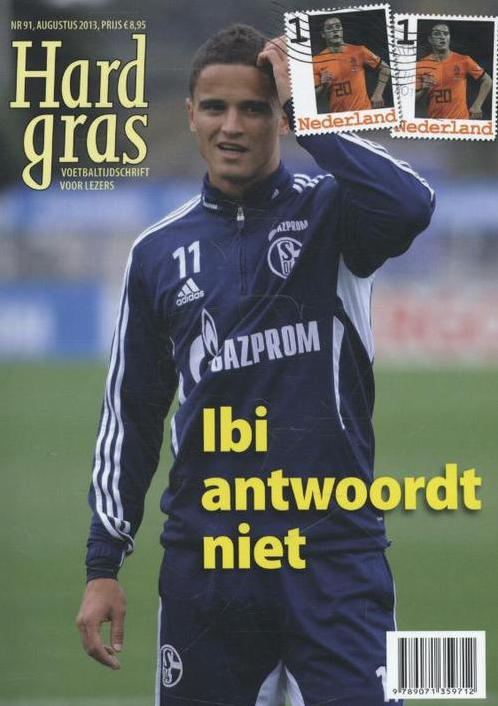 Hard Gras 91 – Ibi antwoordt niet
Het titelverhaal gaat over de volledig uit beeld geraakte Ibrahim Affelay. De dochter van Eva Maria Staal is een fan. Of misschien wel iets meer dan dat. Precies een verhaal dat in geen ander voetbalblad had kunnen staan, maar wel past bij Hard Gras. Ook het verhaal van Simon Kuper die door heeft dat Moneyball, het best verkochte sportboek aller tijden, een vertaling krijgt in Nederland. De Nederlandse eredivisie gaat aan de statistiek. Het eerste slachtoffer viel een paar maanden later. Kenneth Vermeer wordt expliciet genoemd. Zijn ene hoek was beduidend zwakker dan zijn andere. Hadden de tegenstanders het door of zijn eigen trainer. De statistieken van Cilessen bleken al snel beter.
Een mooi stukje geschiedenis door Koen Westerman over een cultheld, spits Gerdo Hazelhekke. David Helinski doet wat ik graag zelf had bedacht, een prachtig 'wat als' verhaal. Andres Escobar en Gabriel Garcia Marquez zijn de hoofdfiguren. Jaloersmakend goed. Ook Sven Portz gaat ver terug in de tijd, de eerste vrouwenwedstrijd, meer dan honderd jaar geleden.
Prachtige uitgave weer van het voetbalblad.
Citaat: "Terwijl de wereld vol ongeloof wacht op zijn overlijdensbericht, vindt in het ziekenhuis van Medellin niet minder dan een wonder plaats. Dokter Humberto Urzaiz, een man met magnifiek witte tanden, ontdekt een zacht bonzen van het hart. Hij gelooft zijn oren niet." (p.52)
Nummer: 14-004
Titel: Hard gras 91 – Ibi antwoordt niet
Auteur: Diversen (Eva Maria Staal, Simon Kuper, Koen Westerman, Frank Heinen, David Helinski, Dries Muus, Sam Goff, Gijs Lauret, Sven Portz, Theun de Winter, Gerrit de Jager)
Taal: Nederlands
Jaar: 2013
# Pagina's: 119 (964)
Categorie: Voetbal
ISBN: 978-90-713-5971-2
Meer:
90
89
88
87
86
85
84
83
82
81
80
79
78
77
76
75
74
73
72
71
70
69
68
67
66
65
64
63
62
61
60
59
58
57
56
55
54
53
52
51
50
49
48
47
46
45
44
43
42
41
40
39
38
37
36
35
34
33
31
30
29
28
27
26
25
24
23
22
21
20