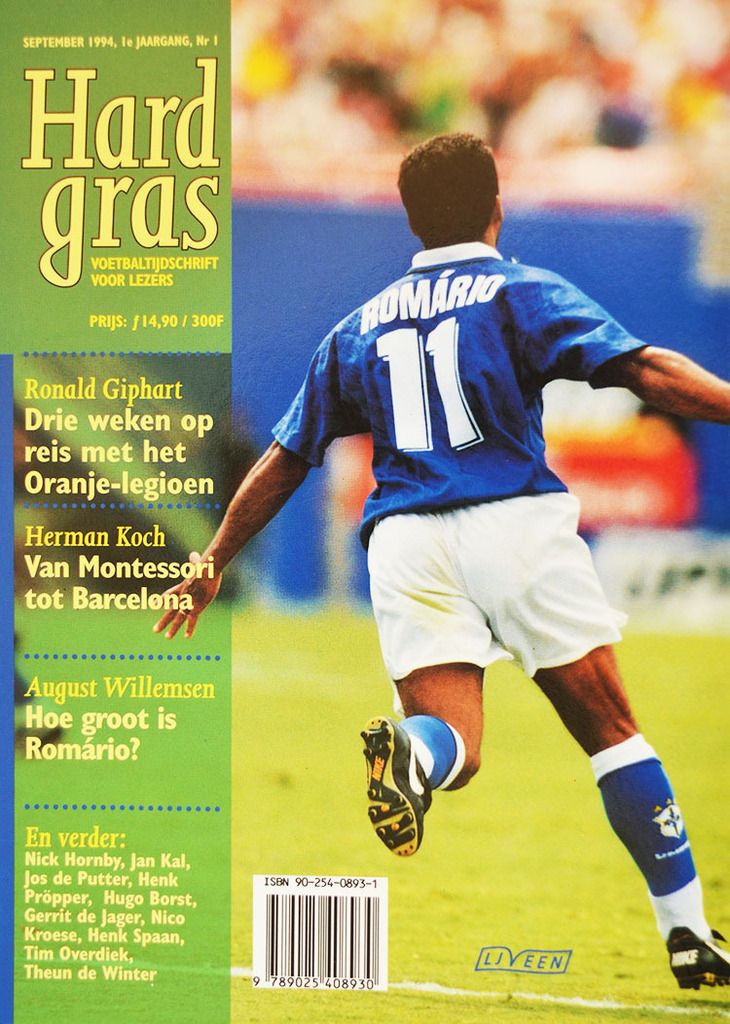 Hard Gras 1
De inspiratiebron was een verzamelbundel door Nick Hornby samengesteld. Voetbalverhalen door goede schrijvers. Ik had het ook in de kast staan. Hornby was dan ook de schrijver van het openingsverhaal van de allereerste Hard Gras. Ik weet nog dat ik Amstelveen met een collega over het nieuwe initiatief sprak. We kochten allebei deze eerste uitgave en waren enthousiast. Geen idee of hij ook lid is geworden, of hij ook nog steeds leest, 21 jaar later.
Natuurlijk herlees ik het eerste nummer in het themajaar herlezen. Waardoor raakte ik destijds enthousiast? Naast het verhaal van Hornby, schrijft initiatiefnemer Henk Spaan over Richard Witschge. De toen nog vrij onbekende Hugo Borst, die pas jaren later in de eindredactie zou belanden, schreef een mooi verhaal over Bryan Roy.
Ronald Giphart mocht naar het WK in de Verenigde Staten, het begin van een traditie waarin een schrijver, liefst een buitenstaander, het WK mag volgen en zijn eigen verhaal mag schrijven. Hij beschrijft vooral mooi het leven om de wedstrijden heen, de uren in het hotel, de gesprekken met fanatieke fans die er alles aan doen om zoveel mogelijk mee te krijgen.
Het verhaal van Jos de Putter is natuurlijk zijn documentaire over het Braziliaanse favella-jochie Leonardo. In dit verhaal wat achtergrondinformatie bij de beelden. Tegenwoordig weten we hoe het de buitenspeler is vergaan, al was een tweede documentaire twee decennia later ook prachtig en onthullend.
Het laatste hoogtepunt is het verhaal van Tim Overdiek over het Balboaplein. Het plein dat vele voetballers voortbracht, vele sterren. Al met al ook nu, 21 jaar later, weer een plezier om te lezen. Met de kennis van nu misschien wel leuker.
Citaat: "Dan – o, het is zo mooi! – lijken alle problemen uit het verleden voorgoed verdwenen. De supporters pakken allemaal een drankje en ze geven elkaar een hand, ja, ze omhelzen elkaar zelfs. Ajax omhelst Feyenoord, Feyenoord omhelst Ajax, sport verbroedert, omnia vincit amor." (p.53)
Nummer: 15-030
Titel: Hard Gras 1
Auteur: Diversen (Nick Hornby, Herman Koch, Theun de Winter, Hugo Borst, Ronald Giphart, Jan Kal, Jos de Putter, Henk Spaan, Henk Pröpper, Nico Kroese, Tim Overdiek, August Willemsen)
Taal: Nederlands
Jaar: 1994
# Pagina's: 128 (5449)
Categorie: Voetbal
ISBN: 90-254-0893-1
Meer:
101
100
99
98
97
96
95
94
93
92
91
90
89
88
87
86
85
84
83
82
81
80
79
78
77
76
75
74
73
72
71
70
69
68
67
66
65
64
63
62
61
60
59
58
57
56
55
54
53
52
51
50
49
48
47
46
45
44
43
42
41
40
39
38
37
36
35
34
33
31
30
29
28
27
26
25
24
23
22
21
20