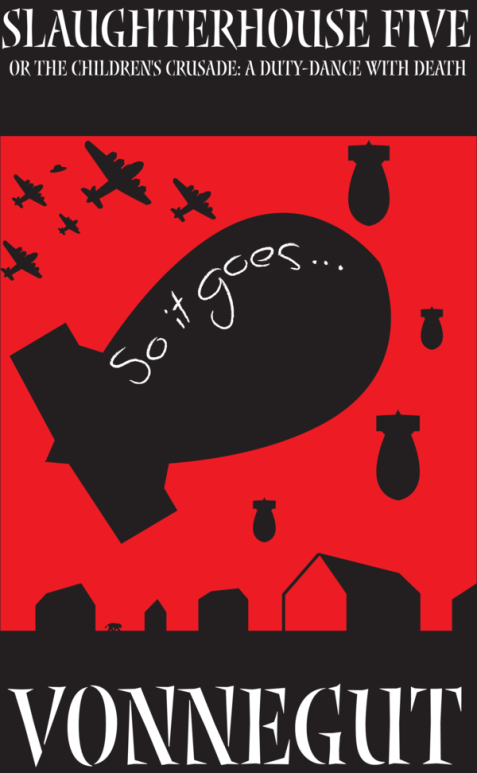 Kurt Vonnegut – Slaughterhouse five
Sinds een dik jaar heb ik een E-reader. Ik lees nog steeds liever boeken, maar een E-reader is een leuke backup voor momenten dat je geen boek meer hebt. Op reis bijvoorbeeld. En dan heb je nog steeds keuze wat je wil lezen, geen verkeerd principe.
Afgelopen zomer herlas ik dus het beroemdste verhaal van Vonnegut, over het slachthuis in Dresden. Ooit wel eens gelezen, ooit maakte het indruk, maar vele dingen kwamen me totaal niet meer bekend voor, ik had geen idee meer dat het tijdreizen zo'n belangrijk onderdeel van het verhaal was. Het zinnetje 'so it goes' dat keer op keer terugkeert, maar wel elke keer een functie heeft.
Slaughterhouse five wordt vaak gezien als een anti-oorlogboek, ik kan me goed voorstellen dat het zo gelezen wordt. Sta ik ook achter. Maar volgens mij is het meer. Het tijdreizen van de een naar de andere planeet is een belangrijk aspect. Geen scifi, daar kan ik weinig mee, maar een belangrijke blik op de mensheid. Kijk naar de aarde door andere ogen. En dat gebeurt perfect door het gegeven dat tijdreizen alles zinloos maakt. Tenslotte heb je al gezien wat er gaat gebeuren, beleef je op zijn hoogst het moment opnieuw, maar impact heeft het nauwelijks, omdat je al weet wat er daarna gebeurt. Zelfs een verschrikking als de tweede wereldoorlog, een bombardement op een prachtige stad als Dresden, wordt zo teruggebracht tot een incident in de wereldgeschiedenis. Aan de ene kant vreemd, maar misschien wel de enige manier om te relativeren wat normaal gesproeken niet te relativeren valt.
Vonnegut was een van de beste Amerikaanse schrijvers van de vorige eeuw, schreef humoristisch maar ook diep. Oppervlakkig, maar toch zwaar politiek. Ik heb zijn oeuvre gelukkig nog niet uit.
Citaat: "The flaw in the Christ stories, said the visitor from outer space, was that Christ, who didn't look like much, was actually the Son of the Most Powerful Being in the Universe. Readers understood that, so, when they came to the crucifixion, they naturally thought, and Rosewater read out loud again: Oh, boy-they sure picked the wrong guy to lynch that time!
And that thought had a brother: 'There are right people to lynch.' Who? People not well connected. So it goes." (p.184-185/356)
Nummer: 15-042
Titel: Slaughterhouse-five
Auteur: Kurt Vonnegut
Taal: Engels
Jaar: 1968
# Pagina's: 215 (7925)
Categorie: Fictie
ISBN: 978-0-38533-846
Meer Slaughterhouse five:
Wikipedia
NY Times
IMDB
15 things you may not know
Meer Vonnegut op gerbie.nl:
A man without a country