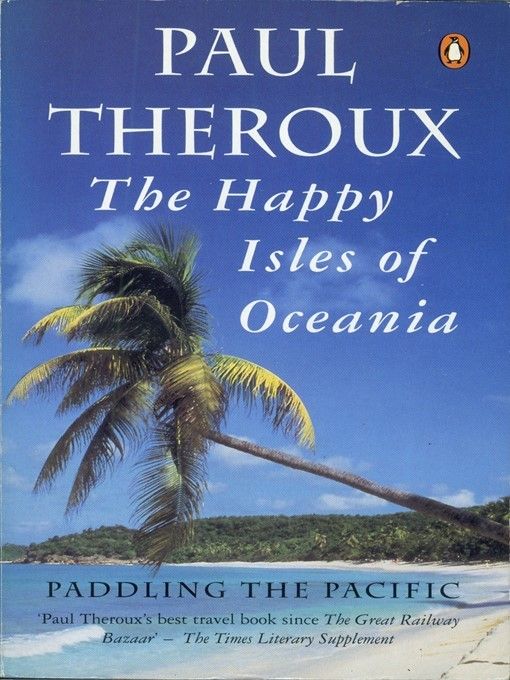 Paul Theroux – The happy isles of Oceania
In de jaren negentig ontdekte ik de reisboeken van Theroux. Cynisch, maar ook wel weer oprecht belangstellend. Niet een doorsnee reiziger, maar wel erg bereisd. Dit dikke boek las ik in 1999. En toen ik ging op reis. Lang. Alleen een rugzak mee. En dan neem je dus niet een boek mee waar je al maar dan 500 bladzijden van gelezen hebt. Wel Oorlog en Vrede, daar heb je veel meer aan.
Zestien jaar later kwam dit boek dus pas weer uit de kast. En voor de zekerheid begon ik nog maar even vooraan. Leest wat logischer. Al op de vijfde bladzijde een mooie uitspraak die ook als motto had kunnen dienen. "Tourists don't know where they've been, travellers don't know where they're going".
Het ging niet goed met zijn huwelijk, Theroux mag in Australië en Nieuw Zeeland zijn boek promoten en gebruikt de aanleiding om meteen wat meer van het werelddeel te zien dat hij nog nauwelijks kent. En de wandelingen en boottochtjes in de twee verwesterde landen zijn nog niet zo bijzonder. Maar na noord Australië steekt hij over naar Nieuw Guinea. Het begin van een tocht waaraan geen einde lijkt te komen, een odyssee langs vele eilanden, vele culturen in een gebied dat zo veel groter is dan bijna iedereen doorheeft.
Theroux komt met zijn opvouwbare kano op plekken waar ze nog nooit een blanke hebben gezien, volgens mij de droom van menig reisauteur. Hij komt andere reizigers tegen, yachties, mensen die jarenlang op boten rondzwerven, politici, die blij zijn iemand te spreken van zijn statuur. En lezers, vooral leuk als ze zijn naam herkennen, maar niet doorhebben dat hij de schrijver is die ze bewonderen. Aan het eind van zijn reis komt hij een reisauteur tegen, zelf ziet hij het toch anders. Waar de Amerikaan trots is gratis hotelovernachtingen te hebben geregeld, slaapt hij zelfs op Hawaii liever in zijn tentje dan in een van de luxe resorts.
Op veel plekken werd hij slechts voorgegaan door missionarissen, niet een onverdeeld genoegen. "This involved preaching against evil and nakedness, and solemnly convincing people that they were sinners, their bodies were shameful, and generally encouring the intense and rather joyous hypocrisy that you find among God-fearing people".
Wie door de stille Zuidzee reist, komt onherroepelijk met (het werk van) Heyerdahl in aanraking. De ontdekkingsreiziger komt er niet zo goed van af. Mooi is om te zien dat Theroux, ook al is hij geen antropoloog, wel heel knap de verschillen tussen de culturen weet te beschrijven, maar ook de overeenkomsten tussen eilanden (en bijbehorende talen) die soms duizenden kilometers uit elkaar liggen. Ooit moeten de smalle kano's hele volken hebben overgebracht, hoe anders is de taalovereenkomst te verklaren?
Bijzonder vond ik ook het moment dat Tolstoj refereert aan Anna Karenina, precies het boek dat ik op dat moment op mijn nachtkastje had liggen, waar ik de afgelopen vakantie ook al in begonnen was. Toeval bestaat niet, hoor je wel eens.
Theroux is de absolute top als het op reisboeken aankomt, slechts weinigen mogen zich met hem meten.
Citaat: "When the legionnaire goes back to France (and it might well be to revisit the wife and children he left behind) he takes his girlfriend's teeth with him, so as to leave her less attractive to men." (p.511)
Nummer: 15-045
Titel: The happy isles of Oceania
Auteur: Paul Theroux
Taal: Engels (US)
Jaar: 1992
# Pagina's: 733 (8903)
Categorie: Reizen
ISBN: 0-14-015976-2
Meer:
China per trein
Slow trains to Simla
The Mosquito coast
Soerabaya