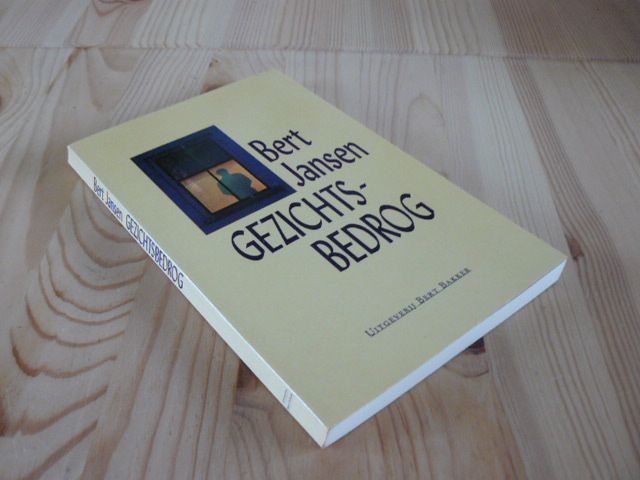 Bert Jansen – Gezichtsbedrog
Roep ik al jaren dat de categorie literaire thriller niet kan bestaan, dat het begrip een contradictio in terminis is, blijkt dat dit boek van dertig jaar geleden die term ook al op de achterkant gebruikt. Las ik dus meer dan een kwart eeuw geleden al.
Bij het drentelen voor mijn boekenkast (een favoriete bezigheid) op zoek naar het volgende boek om te herlezen, viel me weer eens op dat ik meerdere boeken van Bert Jansen in de kast heb staan. Ik kan me nog herinneren dat ik die in mijn studietijd allemaal las, sommige zelfs kocht na lezing. In die tijd las ik vooral van de bieb. Moet wel echt goed zijn geweest dus.
Herlezen dus maar eens, geen idee waar die boeken over gingen. Waarom ik deze pikte, geen idee. Jansen schrijft leuk. Maar helaas ook niet meer dan dat. Voor je het weet ben je aan het eind van het verhaal en blijft vooral de gedachte 'is dit het nu' hangen. Jammer.
Wat Jansen wel erg goed deed was het spelen met gedachten en feiten. Een soort van raamvertelling (soms zelfs letterlijk), zit Bas Terjen het verhaal te schrijven wat ik lees, of is het een verhaal over hem? Schrijft hij of doet hij? Dat maakt dat je blijft lezen, terwijl de gehoopte spanning, de gewenste diepgang, de literaire pareltjes allemaal ontbreken. Het zij zo. Leuk tussendoortje.
Citaat: "Vlak voordat Bas Terjen insliep hoorde hij een kat klaaglijk miauwen, hij meende de geur van nagellak te ruiken en voelde dat zijn wang pijn deed. Slaapdronken liet hij een vingen op onderzoek uitgaan. Die registreerde geronnen bloed. Ik droom, dacht hij, ik leef me teveel in mijn verhalen in, in mijn fictie. De grenzen vervagen gevaarlijk. Ik ben dronken." (p.52)
Nummer: 15-050
Titel: Gezichtsbedrog
Auteur: Bert Jansen
Taal: Nederlands
Jaar: 1985
# Pagina's: 112 (10479)
Categorie: Literaire thriller
ISBN: 90-351-0196-0
Meer:
DBNL
Leerlingen.com