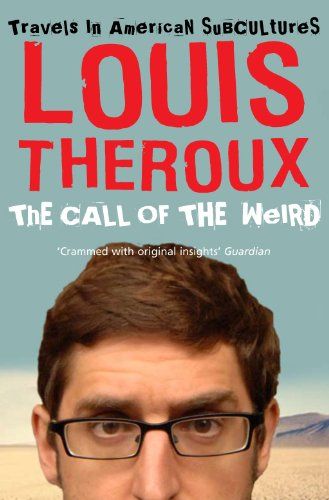 Louis Theroux – The call of the weird
Al jaren kijk ik met erg veel plezier naar Louis Theroux. Net als de generatie na mij is televisie een achterhaald concept geworden, maar voor hem maak ik graag een uitzondering. Veel afleveringen zag ik zelfs meerdere keren, eerst op de BBC, waarvoor hij ze maakt, later nog een keer op NPO3 of Canvas. Theroux heeft een neus voor docu-waardige onderwerpen. De meest vreemde figuren komen voorbij, zonder uitzondering denken ze het grootste gelijk van de wereld te hebben. Theroux slaagt er in om deze wereldvreemde types zo eerlijk mogelijk te portretteren, de conclusie is voor de kijker. Desgevraagd geeft hij wel zijn mening, zelfs al is die voor de geïnterviewde niet altijd even gewenst. Hij komt er mee weg.
Dit boek had ik al eens goedkoop besteld via Amazon, maar is ergens in de Noordzee gevallen. Ik kreeg overigens netjes mijn geld terug van de verkoper. Toen kwam ik het deze zomer tegen in de Ramsj. Gelukje dus.
Even was ik bang voor een slap aftreksel van zijn documentaires, een paar behind the scenes sfeerimpressies, maar dit boek is echt gemaakt als boek. Dat wil zeggen dat Louis terug reisde naar de Verenigde Staten waar hij meerdere hoofdpersonen uit zijn programma jaren later nog een keer opzocht. Het geeft zijn ware interesse goed weer.
Een aantal voormalige hoofdpersonen herinner ik me van de aflevering die hij ooit over ze maakte. Andere waren compleet nieuw voor me. Ike Turner die zichzelf nog steeds op gelijke voet met Elvis en Frank Sinatra zet was grappig. De pornoacteurs zielig. De paranormaalbegaafde samenzweringstheoriebedenkers moeilijk te volgen, maar daarom des te interessanter.
Theroux laat zien hoe vreemd de wereld kan zijn, maar mocht je een overdosis van deze figuren in je leven krijgen, dan gaat er iets mis, dan is de wereld kapot. Gelukkig weet je dat hij bewust de weirdo's opzoekt, dat daar het verhaal ooit zat en nog steeds zit. Dat gegeven maakt het een paar genoeglijke uurtjes met dit boek.
Citaat: "Hayley would only allow me to continue interviewing her if I booked a party. I talked to Lance about it , mentioning that she'd set terms. 'Oh, omly for today,' he said. 'Hayley is the essence of a manipulator. She plays, she grandstands, she titilates, and she'll have a great deal of fun at your expense and mine, because she's a very attractive, alluring, devillish little lady.' " (p.126)
Nummer: 16-030
Titel: The call of the weird
Auteur: Louis Theroux
Taal: Engels UK
Jaar: 2005
# Pagina's: 292 (6790)
Categorie: Non-fictie
ISBN: 978-0-330-43570-3
Meer:
Goodreads
Wikipedia
NY Times
Twitter
Website