Thursday morning I got up in time, because I wanted to be in Buenos Aires early. The main reason was that I wanted to be on the main square, Plaza de Mayo, on thursday afternoon.

Every thursday afternoon at 15.30h the mothers of the disappeared march around the big statue in the middle of the square. They are asking for help, they want their husbands, sons, brothers back that disappeared during the dictatorship of Videla in the seventies. Since 1976 they walk on the Plaza de Mayo. They want answers, they want justice, they want their loved ones back.

It was a grey afternoon, not really raining, yet on the edge of it, water in the air I always call that state. At 3.30 the mothers started marching, plenty of people watching them and taking pictures. If I have to guess, none of them were under 70, yet still a few dozen of them came out in the cold. Fifty or something others followed them with flags and signs as well.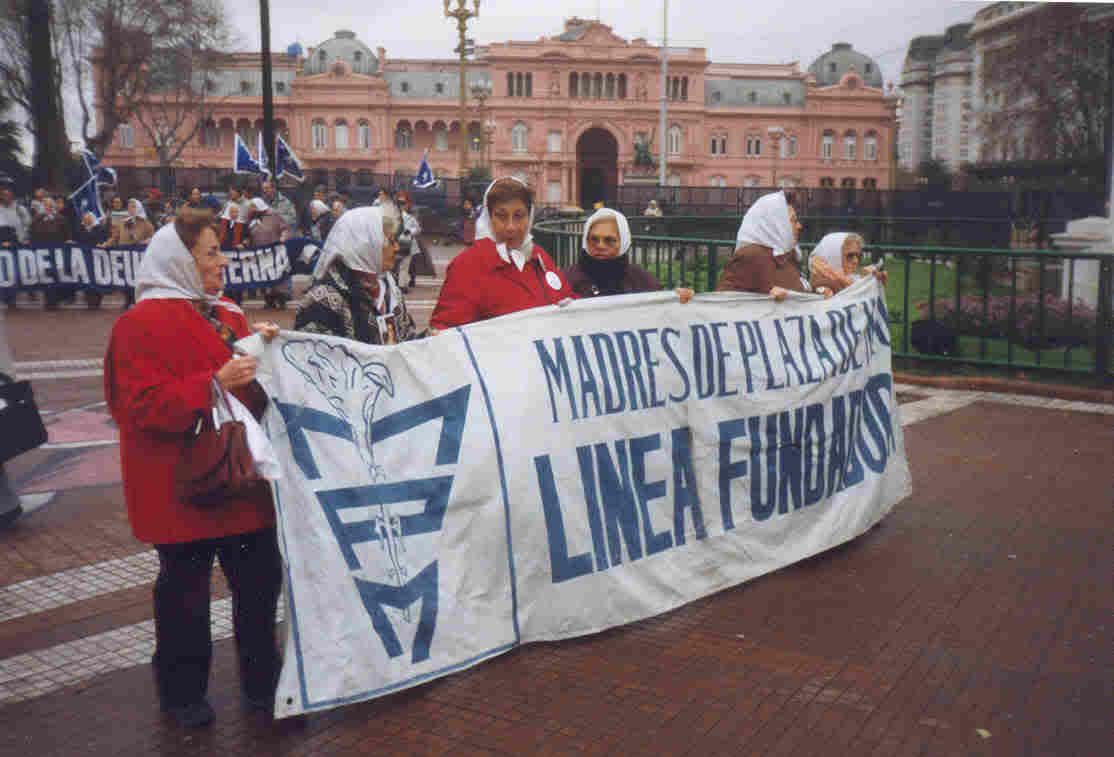 They have their own website nowadays: http://www.madres.org and have become a big organization and therefore a force that has power.

For them, the lyrics of a song that stays in my head a long time after events like this. I heard it first in the version of the Mexican band Mana, when they did an MTV Unplugged. The original is by Ruben Blades.



LOS DESAPARECIDOS

Que alguien me diga si han visto a mi esposo
Preguntaba la Doña
Se llama Ernesto "X"
tiene cuarenta años
trabaja de celador, en un negocio de carros
llevaba camisa oscura y pantalón claro
Salió anteanoche y no ha regresado
Y no sé ya qué pensar
Pues esto, antes no me había pasado


Llevo tres días buscando a mi hermana.
Se llama Altagracia, igual que la abuela.
Salió del trabajo pa' [para] la escuela.
Llevaba unos Jeans y una camisa clara.
No ha sido el novio, el tipo está en su casa
No saben de ella en la PSN ni en el hospital.

Que alguien me diga si ha visto a mi hijo
Es estudiante de pre-medicina
Se llama Agustín y es un buen muchacho
A veces es terco cuando opina
Lo han detenido, no sé que fuerza
Pantalón claro, camisa a rayas
Pasó anteayer

Refrán:

¿ADÓNDE VAN LOS DESPARECIDOS?
Busca en el agua
y en los matorrales.

¿Y POR QUÉ ES QUE SE DESAPARECEN?
Porque no todos somos iguales.

Y ¿CUÁNDO VUELVE EL DESAPARECIDO?
Cada vez que lo trae el pensamiento

¿CÓMO SE LE HABLA AL DESAPARECIDO?
Con la emoción apretando por dentro